Retail merchandising is an important term. Mostly, customers don't care about the sensory environment as they come into the shop. However, colors, tastes, smells, temperature, and how the merchandise looks like combine and make an impression of the merchandise.
Therefore, merchandising in stores is both an art and a science. Decades of consumer analysis, fueled by the retail industry's enormous economic value and expansion, have provided retailers with actionable evidence for merchandising initiatives and best practices.
So, this article would help retailers better understand supermarket merchandising and the distinctions between similar terms.
Surely, there's plenty here for everybody, whether you're new to shopping, have been a retailer for years, and are searching for new ways to outperform the market or work for an e-commerce behemoth.
Furthermore, experts and analysts who use cutting-edge science to analyze consumer behavior will have advice and innovative visual merchandising ideas.
Examine the effect of retail merchandising on both the consumer experience and the industry of merchandising, as well as the requirements for choosing a merchandising solutions provider.
Related Article: Production Capacity Planning Template in Excel Spreadsheet
What is Retail Merchandising?
Retail merchandising is an umbrella term that encompasses selecting, placement and displaying products within a store. So, this process involves selecting the colors of products they want to feature in the display as crucial as the store's floorplan.
Moreover, the term can also be used as the experience you create within your retail store to help drive sales profit. As such, it is essential. But, unfortunately, most retailers are using some form of retail merchandising without realizing it.
Therefore, for these retailers, frequently, improving their merchandising Strategy is as simple as putting a structured and intentional plan behind their actions. With that being said, to truly succeed with retail merchandising, a strategy isn't enough.
It's just one side of the coin. In order to know; if your tactics are working or not, you'll also want to have a measurement system in place. Thus, that is where granular sales and inventory tracking come into play.
The Difference Between Retail Strategy and Merchandising Strategy
A merchandising philosophy that combines retail strategies (such as store location, systems technology, or customer relationship strategy) with tactical decisions (such as the type of merchandise a retailer carries) contributes to a customer's overall brand loyalty.
Retail Strategy
Retail Strategy how the retailer plans for and apply its resources to accomplish its objectives. It includes planning and directing the business processes involved in satisfying wants and needs.
In addition, it creates customer value at the end of the retail supply chain by selling goods or services (or both) to customers for a profit. Usually, it has three parts:
The target market(s) in which a retailer target its resources
The retail format (products and services, pricing, communications, location) that satisfies the needs of the target market
How the retailer will build a sustainable long term advantage over competitors
Merchandising Strategy
Tactics or processes that contribute to the sale of goods and services to the customer for profit. So, Merchandising Strategy involves the tactics (or business processes) that contribute to selling goods and services to the customer for profit.
With this intention, a sound retail strategy develops a desirable retail merchandise mix of products that add unique customer value. In addition, a brilliant retail strategy should develop desirable retail merchandise of various products that gain unique customer value.
Related Article: Vendor Evaluation and Selection Matrix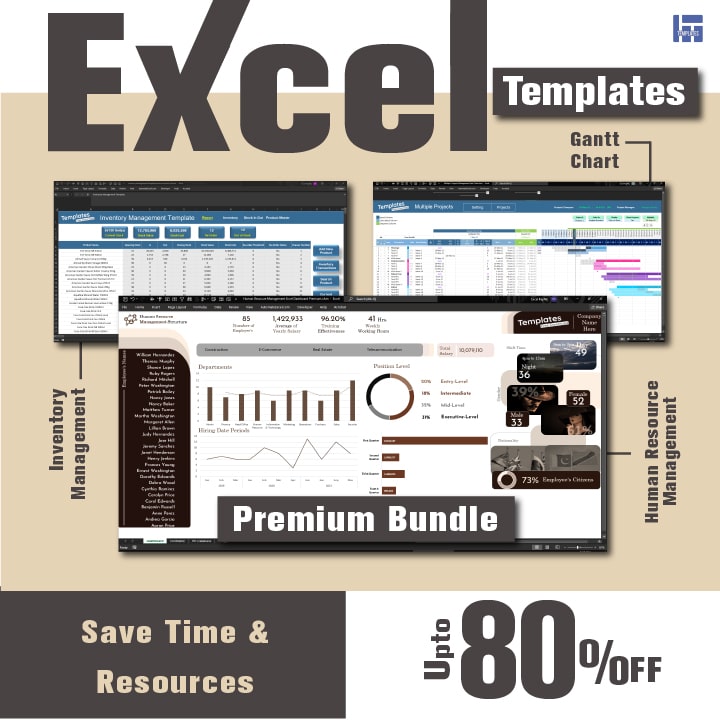 What is Visual Merchandising in a Retail Store?
Visual merchandising is part of a retail merchandising strategy. And, it involves the planning and activities responsible for how customers see your physical and digital stores.
And the goods and services display within. Visual merchandising applies to everything from your retail store's exterior to the well-placed furniture, fixtures, and promotional displays.
Also, it helps create customer value by making the shopper's journey efficient, unique, and memorable. Further, e-commerce, retail stores, and mobile channels converge to customer experience in today's Omni marketplace.
Also, Visual merchandising is responsible for creating the digital or the physical environment that appeals to your target customer. And, it also aligns with your overall retail value proposition.
Moreover, the creative methods of visual merchandising stimulate customers to make purchases. Retailers can design a customer experience with the layout of store merchandise,
Visual Merchandising Tips
While retail operations cover various techniques you might apply using products and store layout to drive sales, visual merchandising focuses on how your products are presented and displayed.
It includes everything from product displays to signage and lighting. We have a bunch of visual merchandising tips to help you get started.
Keep the Buyer in Mind
As with your broader retail merchandising Strategy, you'll want to keep your ideal customer in mind. Try to create displays using lighting other visual elements to create an experience that caters to its unique personality and values.
Signs Point the Way
Shoppers are scanners. They routinely look for changes in familiar retail environments and use visual stimuli closest to their entry point. Place signs most intimate to the customer's entry point and guide the shopper's journey with images rather than text to avoid overstimulation.
Engage all of the Senses
Humans have five senses that you can leverage to influence and create an unforgettable experience. An exciting idea along these lines is the use of scent, especially around merchandising displays. This idea isn't just applicable to the world of beauty or fashion merchandising.
For example, if you sell outdoor sporting goods, you could try using woodsy scents like Agarwood or the smell of a campfire to draw a shopper into the experience.
Material Matters
Shoppers (and their brains) enjoy touching round, soft items. Place such items at eye level and design merchandise displays with "touch moments" in mind.
Also, the shelving and presentations material matters to the customer's visual perception of value. Wood gives the impression of "real, authentic, and organic," but shoppers may perceive a higher price point for items displayed on natural wood shelves.
Related Article: Free Purchase Requisition Form Templates in Excel with Samples
Keep Things in Rotation
You should rotate your displays every few weeks to ensure that you're regularly showing the fresh product to the customers. Display rotation also gives you more freedom to experiment.
Come up with a design hypothesis about what might increase sales and test it via your displays. If it doesn't work, repeat the process with variations.
Focus on Upgrades and High-Value Items
In any business, there's always an opportunity to upsell. With that in mind, focus your visual merchandising efforts and budget on pushing those more expensive products. For example, set up a display of higher-priced dress shirts and suits next to your more affordable options.
Retail Supply Chain Merchandising
The retail industry relies on the cooperation of a supply chain made up of manufacturers, wholesale suppliers, distributors, transportation and logistics providers, and merchandising solutions providers. It is a partnership between merchandise.
Managers and their suppliers' networks use shared resources to stock Products and displays for customers to access. This merchandising activity is done by the manufacturer, vendor, or wholesaler that provides the retail Store's products.
Some scenarios may include the partners who select the Merchandise mix for retailers. Grocery retailers, for example, rely on the In-store merchandising services of their partners for an activity such as shelf stocking, inventory management, and promotional display creation.
Related Article: Supply Chain Management (SCM)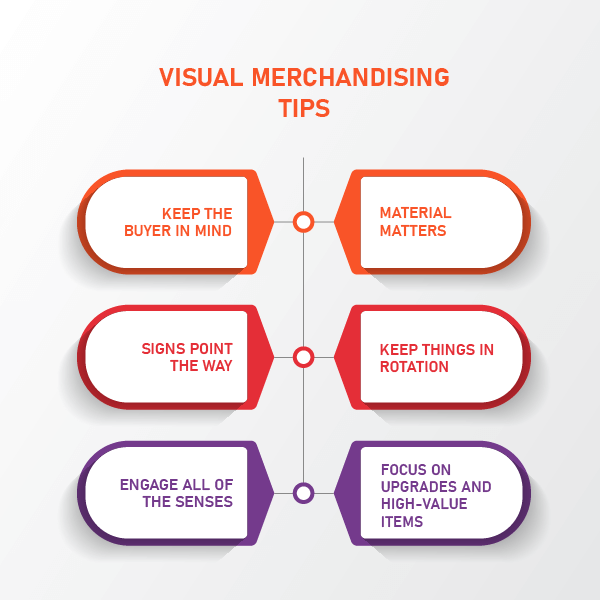 The New Rules for Retail Merchandising
An investigation of brain activity during visual stimulation of goods demonstrated neuro-marketing potential by finding that unconscious thought drives up to 80 percent of customer purchase behavior.
The rational customer is a myth, and the point of sale itself can directly influence customers, especially if that customer fits the retailer's target customer group's motives.
A new set of retail merchandising rules must account for the emotional, irrational customer behavior discovered by scientific methods (such as neuro-marketing) and the customer experience demands of a digital era.
The Rule of Three
Constant Berkhout writes about the challenges of "over-choice." Behavioral economics and science indicate that too many choices do not work well for the shopper's journey.
The consequences include cart abandonment and order cancellation or, worse, choosing the competitor's environment with fewer options. According to findings cited by Berkhout, shopper happiness increases when retailers reduce choices.
Consider three to be the magic retail merchandising number: Explore a category management strategy with three core products that you offer quarterly (every three months) to create demand and keep up with changing customer trends.
The Personalization Rule
Research suggests customers want to shop on their terms. Using statistics from Malcolm Gladwell's research, Berkhout writes that our contemporary life bombards shoppers with hundreds of daily messages in the form of TV, radio, and digital media ads.
He uses the principle of availability to point out that people don't have the time or capacity to process these messages and only pay attention to personal events that have occurred recently.
Personalized service and a customer experience that matches the target customer's lifestyle are more likely to create customer value.
Leverage social media advertising platforms' segmentation capabilities and experiment with ads personalized for your customers. Make retail merchandise physically accessible to customers.
The Experience Rule
Products and services are two-thirds of the equation now. An outstanding customer experience is the final piece of the customer value puzzle by using innovative in-store technology.
A retail merchandising strategy that successfully embraces the physical and digital customer experience doesn't necessarily require resources for retail giants.
Small, independent retailers can leverage retail management software that allows customers to reserve products online and pick them up in the store.
What is a Merchandising Business?
The importance of retail merchandising to retailers of all sizes and categories supports an industry of merchandising specialists and consultants.
These specialized merchandising businesses provide expertise and resources to successfully plan and execute retail strategies.
Without the personnel or resources to oversee merchandising budgets and activities or implement retail strategies in-house, retailers rely on third-party solution providers.
The shop makers work across four branches of expertise, including lifestyle retail, food retail, premium retail, and digital retail.
According to Wikipedia, shopfitting is the "trade of fitting out" retail stores with equipment, fixtures, and fittings."
A shopfitting firm "typically incorporates professional expertise in interior design, the manufacturing of bespoke furniture, signage, fittings (with one's own or outsourced facilities), and retail equipment purchasing.
Related Article: Free Printable Fill-in-the-Blank Business Plan templates | Complete Guide
Here's a list of other prominent retail merchandising businesses and a snapshot of their advertised capabilities:
ManagementONE: Management One provides international retail experts for merchandise planning and professional retail services, such as traffic and conversion management.
So, the company offers retailers turnarounds behind expenses and a retail diagnostics program for financial analysis, industry benchmarking, and compensation review.
SPAR Group Retail Merchandising: The group is a publicly-traded international retail merchandising service provider. Therefore, the company offers three categories of service: syndicated, project, and dedicated services based on the size of the operation and the retailer's specific needs.
In addition, SPAR Group provides retailer-directed in-store merchandising services within these categories dedicated to all manufacturers, new store set and remodel, events and demo management, audits, and assembly services.
Advanced Retail Merchandising
ARM provides merchandising services, mystery shopper audits, planogram and presentation development, data collection, and market research for retailers located in the southeastern United States (Florida, Tennessee, Alabama, Georgia, and South Carolina).
So, the company uses an activity-based model to support each retailer partner and dedicates a team to independent projects for tailored customer support and complete budget control.
Mi9 Retail
Named after the British military intelligence service (MI9). Mi9 Retail provides software solutions and professional retail services for merchandising, store operations, customer engagement, e-commerce, and business analytics across most retail categories.
In addition, the company offers ERP integrations and retail management systems software implementation for various proprietary software deployed as cloud-based SaaS or hosted on-premise.
Retail Merchandising Services
RMS is a privately held, family-owned company providing in-store visual merchandising and display solutions in the US. RMS employs retail merchandising service representatives, field coordinators, and management in geographic territories.
So, the company lists a range of merchandising services, including count updates, item corrections, instant rebate coupons, safety recalls, fixture/signage surveys, and endcap setup and maintenance.
Related Article: 6+ Free Production Schedule Templates Excel | Production Scheduling Sheet
What Does it Take to Succeed in Merchandise Management?
Merchandise managers are vital to the retail management ecosystem. Also, Linkedin lists various merchandise manager professionals working in diverse retail environments and with all types of merchandise.
In addition, a variety of specialized roles related to merchandise management exists, including specialty buyers, purchasing and vendor managers, sales trainers and consultants, professional service providers, turnaround managers, supply chain specialists, and technologists are specializing in inventory management and POS systems software.
A merchandise manager's role varies but aligns with retail management philosophy, planning, Strategy, and activity. Retail merchandise management responsibilities include the following actions:
Merchandising Planning
The expenses involved in running a retail business can make or break a retailer because of slim operating margins and tough competition. So, proper retail merchandise planning is critical to profitability that the retail industry supports separate job categories for merchandise planners.
Therefore, the primary retail management system software solutions providers design planning tools and technology for users. The planning responsibilities for merchandise managers include sales forecasting, inventory planning,
Merchandising Budgeting
Managing and selling inventory is not an easy task. Retailers with large amounts of stock or expensive merchandise rely on their merchandise budgets' accuracy.
The merchandise budgeting process requires projecting demand, projecting sales, determining which costs to attribute (cost of goods sold, marketing expenses, software cost, Shipping), and estimating purchases and reduction (inventory theft or damage).
The budget may be static or flexible, depending on the business history and retail category. It consists of projected sales, inventory cost, estimated reduction, and estimated purchases.
Inventory Planning
Typically, merchandise managers are responsible for maintaining accurate inventory levels according to customer demand and operational capacity. The ultimate goal for retailers is profitability, and there are various methods used to manage a profitable inventory.
For example, Merchandising managers budget for real-time inventory expenses to identify how much capital is available at any given time. This portion of the merchandise budget is called open to buy (OTB).
Retail Assortment Strategies
Although, assortment strategy is the process of planning for the type and number of products a retailer carries. Merchandise managers plan for product variations of a particular product to move and how many kinds of products to take overall.
That requires determining trade-offs and intelligent analysis of customer trends, operational capacity, and internal capabilities (such as sales staff experience). Merchandise managers may work for retailers known as a category.
Related Article: Free Single-Page Business Plan Templates PDF
Killers
A retailer uses a deep assortment strategy of a limited number of products to dominate a class and make competition difficult (for example, Staples'the Assortment of business supplies and services).
A more significant percentage of retail sales shifting to digital channels makes category killers less of a threat to smaller retailers leveraging narrow Assortment strategies.
Most merchandise managers have a bachelor's degree (for BA/BS in Business, BS in Fashion Merchandising, and BA/BS in Marketing) or equivalent industry experience.
Further, the role is diverse as merchandise management includes sales forecasting, creating merchandise plans and inventory budgets, evaluating market trends, and working with buyers to manage supply and demand.
Also, merchandise Managers are often involved in the day-to-day activities in various retail environments.
These include creating displays, stocking shelves, managing inventory, training sales staff, and working with information systems for inventory management and sales reporting.
Also products through their lifecycle, from creation to disposition, vendor management, meetings, and negotiations, they include minimum purchase quantities, rebates, and costs as well.
Secondly, managed a team of product coordinators, analysts, event managers, and web merchandisers. Analyzed sales data in Depth to optimize merchandise presentation and selection achieved consistent 4-5% comp growth in responsible departments.
Successfully planned and executed substantial merchandise initiatives and relays, including new department rollouts, NOOK, and digital industries.
Designed and launched a new merchandise website with revenue doubling successfully reduced inventory by 30% by implementing mark-down strategies and open to buy.
The Importance of Retail Category Management
At the center of retail merchandising management is the desire to understand customers to create customer value that leads to profitability. To do so, merchandise managers should know the importance of retail merchandising. According to Berkhout, this is the core of category management.
Professionals initially used the term category management to describe the joint business planning between retailer and supplier, writes Berkhout.
Over time, the definition changed to include "the process of managing categories as strategic business units, producing advanced results. It is done by focusing on delivering concept rests on four principles:
Think about category and not about the brand or product.
Secondly, include supply and demand retail activities as an integral part of your overall process.
Deliver customer value.
Collaborate closely with suppliers.
Holistic, mutually beneficial collaboration between retailers and their supply chain partners is essential to surviving in the retail jungle.
Category management is less dependent on customer behavior or motivations and relies more heavily on strategic planning, understanding and analyzing data, and retail merchandising tactics.
Merchandising Strategy is what small, independent retailers need to understand to respond to the threat of retail giants, deep-assortment discounters, and digital disruption.
Related Article: Project Management KPI Template XLS (KPIs)
Frequently Asked Questions
What are the 5 Rights of merchandising?


The five rights include

• Providing the right merchandise
• At the right place
• At the right time
• In the right quantities
• And at the right price.

What makes a good merchandiser?


Merchandisers need to understand the products and styles in their market and detect commercial movement to up or downgrade stock at just the right time. Data is their BFF. As it informs demand forecasts ensuring they're not left with duds. And it also reveals areas for promotional opportunities.

What is the merchandiser job description?


Merchandisers are responsible for product appearance and supply in various stores throughout their designated geographic area. So, by working closely with both suppliers and manufacturers, they confidently promote specific products and services that will increase sales over some time.

What are merchandising skills?


Merchandising is an important business activity in a retail store. It revolves around product positioning and visually-pleasing merchandise displays that attract customers' attention. Therefore, your ability to use planning software and assess retail trends remains vital in this area.

What is the retail merchandiser job description?


Retail Merchandisers ensure that a company's offerings are present in designated stores and that stock is replenished as needed. So, retail Merchandisers work to facilitate the sale of these items by creating engaging displays and attractive promotions.