Even for a small fleet, effectively managing fleet maintenance can be challenging. Because many of our customers are switching from paper to template, we have seen thousands of fleet management-related spreadsheets over the years and have created a best-in-class fleet maintenance spreadsheet template. Our fleet maintenance spreadsheet is an excellent alternative if you're not quite ready to implement a fleet management program to ensure nothing falls between the cracks. Keep track of data such as:
Mileage expenditures
Maintenance expenses
PM scheduling
Vehicle specifications
The modern business approach focus on ensuring the overall equipment effectiveness of their key assets. In the fleet management business, the fleet maintenance spreadsheet Excel templates are very useful to maximize the productivity, availability, and performance of vehicles.
So, the fleet maintenance log helps to maintain the good operating condition of vehicles and maximize the availability of vehicles.
As there are different maintenance approaches and fleet maintenance objective is to ensure availability and minimize operating costs. Thus, breakdown or reactive maintenance approach isn't a good choice.
So, preventive and proactive maintenance strategy is the best option to improve fleet business profits and maximize revenue. Also, there are several types of fleet and vehicle service spreadsheets.
Some focus on maintaining the log while others are helpful to calculate operating costs.
The following are the top free fleet maintenance spreadsheets to generate the best results for your business.
Related Article: 45+ Free Project Management Spreadsheet Templates for Excel (2020)
Fleet Maintenance Log
Truck Maintenance Log
Car Maintenance Log
Truck Maintenance Checklist Template
Car Maintenance Schedule
Company Vehicle Service Log
Fleet Maintenance Record
Truck Preventive Maintenance Log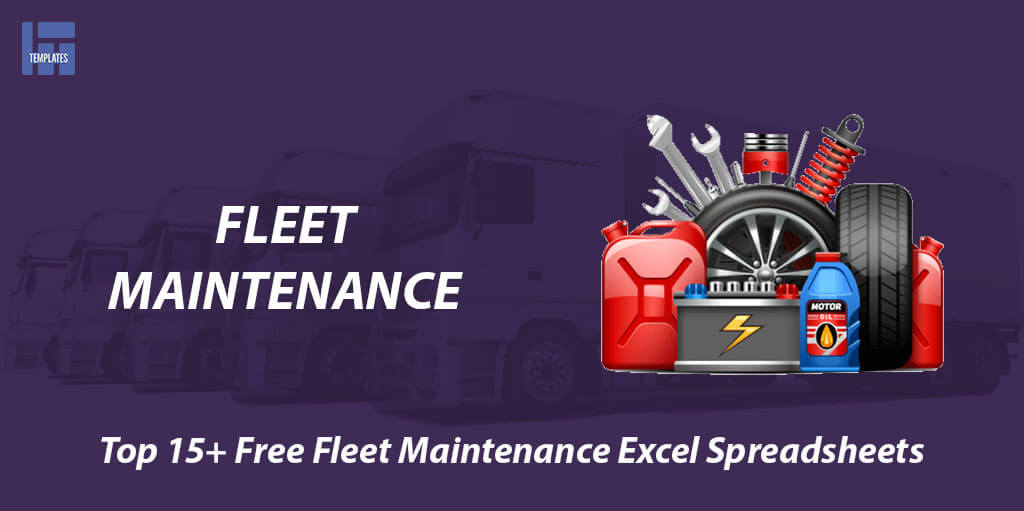 Importance of Fleet Maintenance Spreadsheet
The vehicle fleet service has many applications. It is useful to provide the pick and drop service to the company employees. Also, the company can use its fleet to deliver the product to the dealers or end-consumer.
Similarly, hospitals have an ambulance fleet to take the injured people to the hospital.
All these applications demand the flawless service of vehicles. Otherwise, the consequences may harm customers in different ways.
Everyone can understand the consequences of the sudden breakdown of an ambulance carrying a very serious patient.
While the bad experience of company employees' will mentally disturb the employees to perform well in the workplace.
Thus, wherever the fleet is going to be used. The fleet best performance and maximum availability are important. So, fleet maintenance management and service spreadsheets are very essential.
Further, it is not all about ensuring the availability of the fleet. The preventive maintenance approach focuses on providing the best performance and eliminates notorious downtimes of fleet vehicles.
The efficient follow up of original manufacturer guidelines make the fleet durable and improve its performance in terms of mileage.
The fleet service log and maintenance spreadsheet also helps to lower the operating costs. As the vehicles involve a lot of rotating mechanical parts.
So, the imbalance or breakdown of any rotating element damages the whole mechanism and results in higher repair costs.
Thus, it is important to follow the manufacturer maintenance checklist and keep on replacing faulty parts before breakdown. It will significantly cut down the maintenance cost hence the operating cost of vehicles will also reduce.
Finally, the fleet maintenance service record and preventive maintenance templates are useful to achieve the objectives of fleet maintenance as explained earlier.
Related Article: Free Project Schedule Template | Plans, Gantt Chart and Timeline Templates
Key Features of Fleet Maintenance Log
The fleet maintenance logs are useful to well maintain the vehicles to ensure the minimum operating costs and best performance.
So, these spreadsheets let the business owners to strictly follow maintenance schedules and avoid any unplanned downtimes in service availability.
As there are several types of fleet businesses. However, these fleet maintenances excel spreadsheets are compatible with any type of business.
Further, vehicle service logs are integrable with advanced fleet management solutions. Also, it is very simple to manage and track the fleet maintenance record using excel templates.
The template requires a very basic skill on the MS Excel to customize, edit, and use the spreadsheet for customized applications.
However, it is important for the fleet owner to understand what factors are useful to monitor and track. Thus, a simple KPI dashboard template is very useful to identify and track the fleet business key performance indicators.
Related Article: Business KPI Template Excel XLS
Performance and Efficiency:
The key feature of the fleet maintenance spreadsheet excel is scheduling. It not only lower the maintenance cost for immediate advantage. But also eliminate the breakdown of vehicle critical parts to improve vehicle life and durability.
Normally, a well established fleet business with more than 25 vehicles use paid fleet management software. These software solutions are useful in monitoring vehicle mileage, fuel consumption, and running hours.
However, our fleet maintenance checklists are equally useful for similar kinds of advantages in free.
The proactive maintenance strategy is always recommended to improve overall equipment effectiveness of the fleet.
Also, it cut down the extra add-ups of maintenance cost due to the sudden breakdown of critical components. Thus, helps to keep the maintenance cost in the defined budget range.
Mechanically, the noise and vibration in the vehicle are indicators of an underlying problem. The severity and impact of such issues keep on increasing with time.
Thus, unattended issues result in sudden failure and produce abnormal trends in the cost sheet of business for repair and maintenance budget.
Similarly, the studies show that a poorly maintained engine consumes 50% more fuel and increase the operating and maintenance costs of a vehicle.
Also, if there is any problem with fleet vehicles. It is essential to track it properly to avoid sudden breakdown and unavailability. Thus, check out our Free Issue Tracking Spreadsheet to sort out all your business issues at priority.
Related Article: Best Project Tracking Template Excel
Working on Fleet Maintenance Spreadsheet Excel
You presumably have dozens of duties to balance as the person in charge of fleet management. Your fleet is an important asset, and tracking it all in a spreadsheet raises the possibility of conflicting accounts of events. Utilize this fleet management template to save some time. This fleet management system is surprisingly easy to use for managing your vehicles. Fleets are adopting electric vehicles at an increasing rate.
This template combines tracking of the vehicles with maintenance schedules, financing, additional asset evidence, a list of drivers, and scheduling of the vehicles and assets by specific drivers.
Track Vehicles
The Fleet Management template is perfectly tailored for tracking vehicles across your fleets and can be updated in real-time from various places. Organize your vehicles, assets, drivers, maintenance, and scheduling using it. Keep an eye on required vehicle inspections easy to maintain the quality of your fleet.
Manage Important Dates
Adaptable enough to be used by small and large fleets with numerous locations and vehicle makes. This fleet management template will stand by you as your company grows.
Manage each aspect of your car and drivers in one location. Never neglect an MOT, servicing, licence check, or vehicle safety inspection again.
A calendar or timetable with all forthcoming events is available. In addition, you can view the due dates and already booked checks (such as the MOT) here. The colour of each type of check makes it simple to distinguish between them. To view vehicle specifics and all relevant information, double-click any tab.
Fleet Management Automations
Your vehicle's mileage, most recent service, and next check dates will all be kept current by automation.
Additionally, you can automatically create tasks to remind you to arrange a particular impending check. Or to automatically schedule a new check after the previous one is declared finished.
Compare Vehicles and Drivers' Performance
Comparing the effectiveness of each driver and vehicle is incredibly simple because of the numerous views. You may immediately assess which cars require the most maintenance or are used the least if you want to combine your fleet. Create your fleet management system by altering this template to suit your needs.
Fleet Maintenance Service Logs in Excel Format
The purpose of the fleet maintenance log is to manage all the vehicles from a single sheet. However, sometimes a separate maintenance log and schedule is useful for cars and trucks.
A company may choose to use a spreadsheet that manages all the vehicles of a fleet from the dashboard. While there are several other options to segregate and categorize the vehicles.
For example, a company has 50 vehicles. It sounds logical to segregate the fleet based on brand, engine capacity, or the age of the vehicle.
This approach allows the company to control the maintenance log for every set of the fleet as some brands or old vehicles may require more maintenance than newer ones.
Thus, the following types of fleet maintenance spreadsheets are useful in this approach.
Related Article: Supply Chain Management (SCM)
Cars Maintenance Log
Trucks Maintenance Log
Company-wise Maintenance Log
Mechanic-wise Maintenance Log
5 Years Maintenace Log
A fleet maintenance KPI dashboard spreadsheet is a summary of the vehicle individual sheets. It automatically captures the useful information from individual maintenance logs and presents the key performance indicator for easy tracking.
So, the company may choose to show the availability of vehicle, tentative unavailability date, mileage, refueling, and service cost information on the dashboard.
Similarly, a fleet is an integral part of many businesses' supply chain networks. So, it is important to understand how to perfectly maintain the logistics fleet for the successful supply chain management.
How to make a Fleet Maintenance Log?
A fleet maintenance log is a document that is useful to record and keep track of the service information and next due maintenance of all the vehicles under the same ownership.
Also, the key performance indicators are trackable using a dashboard-type fleet maintenance log. These factors include vehicle mileage, fuel consumption, engine condition, uptime, last service date, and next maintenance due date.
Further, the maintenance and operating costs of the fleet vehicles are also useful to include on the dashboard of the maintenance service log.
Moreover, the main objective of fleet maintenance logs is to ensure a good proactive strategy to avoid sudden breakdowns.
Also, it saves extra repair costs and reduces unplanned downtimes. Further, resulting in the maximum availability of fleet and best performance.
So, once the objectives of the fleet maintenance log are clear. Now, define the elements to include on the spreadsheet to achieve desired objectives.
The fleet maintenance log for individual vehicles may include the basic information of the vehicle, its mileage, and expenses. While the main tabular section of the spreadsheet should have a monthly breakup of mileage, refueling, service, and other expenses.
A simple MS Excel XLSX spreadsheet is a very handy tool to formulate the whole calculation for the fleet maintenance log. Also, it contains useful features to handle tabular data.
So, a very basic skill level on Excel is enough to make a perfect fleet maintenance excel spreadsheet.
Benefits of Fleet Maintenance Excel Templates
There are various applications and uses of fleet maintenance excel spreadsheets. Thus, the fleet maintenance templates provide the following advantages to the company.
Related Article: 6+ Free Production Schedule Templates Excel | Production Scheduling Sheet
A fleet maintenance dashboard provides a quick overview of the available vehicles and maintenance status.
It helps to ensure the planned availability of every unit of the fleet.
It minimizes and sometimes eliminates the chances of unplanned downtimes.
A preventive maintenance strategy improves the overall performance of the fleet.
It reduces the maintenance costs and keeps the expenses within the defined budget.
It helps to reduce the operating cost of the fleet to improve business profit.
Scheduled maintenance improves the durability of the fleet and increases the operating life of the equipment.
It improves the mileage of vehicles and reduces fuel consumption.
Saves the cost of expensive fleet management solutions.
Easy to use, edit, and customize for trucks, cars, and ambulances fleet.
Free Download Fleet Maintenance Templates
Templates Free Download provides free templates to record and keeps track of the fleet maintenance, operating costs, and availability.
These spreadsheets are very useful to plan preventive maintenance for the servicing of fleet vehicles such as cars, trucks, and ambulances.
Vehicle Yearly Maintenance Template
Vehicle Yearly Maintenance Log is one of the best fleet maintenance spreadsheet Excel with enhanced features.
It doesn't only let to make a yearly log of fleet maintenance but also allows the owner to keep a report of vehicle monthly usage in terms of miles.
Further, the maintenance cost per mile allows the owner to calculate the profitability and fitness of any vehicle.
Moreover, it enlists many important maintenance functions to check on them while entering data for each month. So, nothing gets skipped and cause unplanned downtime of the fleet vehicle.
Related Article: Business Feasibility Study Analysis
Best Car Maintenance Excel Checklist
Best Car Maintenance Excel Log is no less than any paid maintenance checklist. It decides the maintenance work in monthly and mileage milestones.
So, record the date and actual miles for each maintenance activity.
It's a checklist-type car maintenance log that enlists all the professional maintenance points to check on reaching a certain miles limit.
It has a division of maintenance checks as monthly, 5000 miles, 10,000 miles, 15,000 miles, 30,000 miles, 60,000 miles, and 100,000 miles.
It covers more than 40 maintenance checks to keep your car fit even reaching a milestone of 100,000 miles.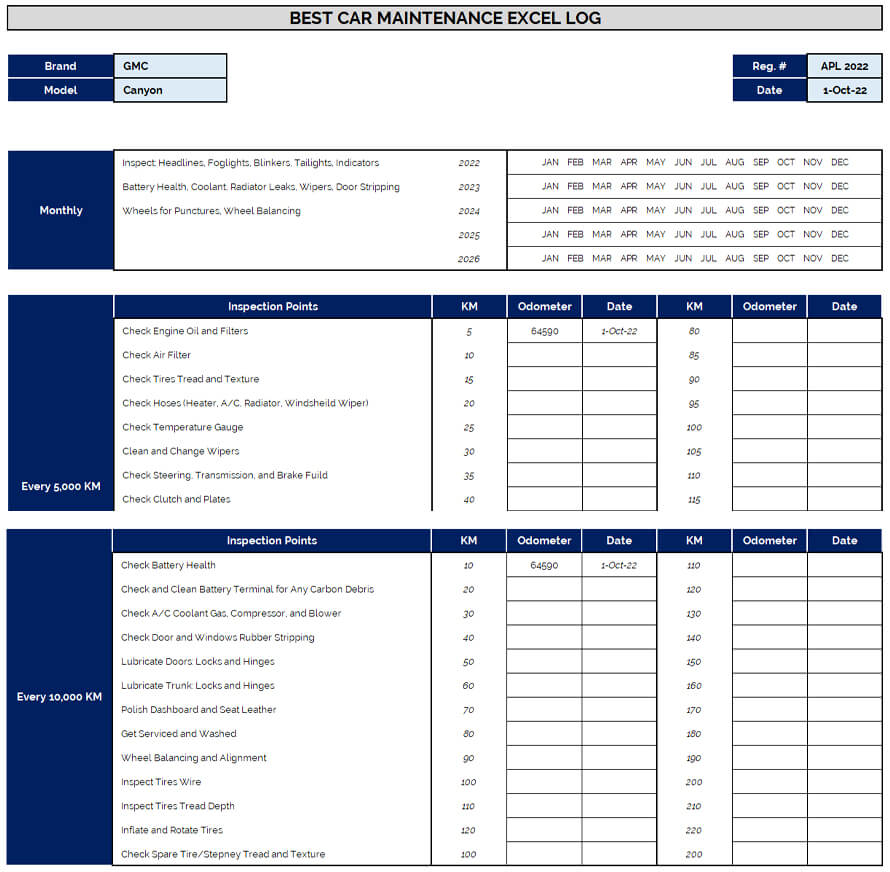 Company Vehicle Service Log Template
It is a simple log type template to record each maintenance event of your company vehicle. The KPIs of this template include the date of service, mileage, description, mechanic name, warranty, labor cost, material cost, and total cost.
This template is useful in different ways to analyze different sorts of information. You can see the maintenance requirement in days or miles.
Similarly, correlate maintenance events with the mechanic to analyze mechanic performance.
Further, the information about total maintenance expenditure and running miles of the vehicle is useful.
You can calculate cost per mile and include total maintenance cost to calculate the profitability of the business along with other costs.
Check Out Our: Free Easy Step by Step Guide on How to Make a Timeline in PowerPoint
Vehicle Preventive Maintenance Log
The profitability of fleet maintenance business relies on the maximum availability of fleet and minimum sudden/unplanned breakdowns.
So, the owners have to focus on strictly following the maintenance schedule.
There are different maintenance techniques and preventive maintenance is one of the best strategy and proactive approach to avoid unplanned breakdowns of fleet vehicles.
This preventive maintenance log allows us to keep track of maintenance events and keep an eye on the next maintenance date. So, the vehicle shouldn't miss any planned maintenance check and can ensure maximum availability in the fleet.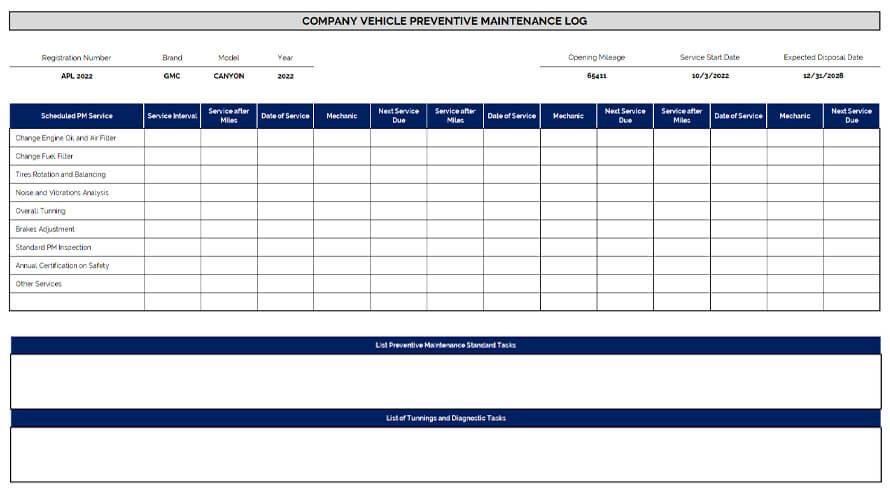 There are many other useful cars, vehicle, truck, and fleet maintenance checklists, preventive maintenance checklists, schedules, maintenance logs, and templates available below for free. Download your required one and keep your vehicle fit!
Vehicle Fleet-Maintenance-Spreadsheet-Excel
Suppose your organization manages more than one automobile, and you must organize, track, and report your data in a single Excel spreadsheet. In that case, you may need our Car Fleet Management spreadsheet. Using this spreadsheet, you may keep track of your daily car journeys and other normal auto maintenance, manage your vehicle's travel distance and fuel consumption, and generate reports based on your travels, such as a mileage trip report for tax purposes.
However, this is not a complex spreadsheet that may meet your needs, particularly when keeping track of your automobile's technical data (such as position monitoring, car on/off time, etc.). Instead, it is intended to assist you in managing your fleet more generally. Although it is intended particularly for automobiles, you may use it with other fleet kinds, such as boats or motorbikes.
You will find the following features in this spreadsheet:
Car Trip Management
You may monitor and assign drivers and vehicles based on availability. A daily monitor worksheet is available, and it may swiftly alert you of its availability. Each car will have a worksheet of its own, making it easier for you to see the history of a particular car on a single page. This worksheet's data will be processed to provide an overview of your car usage. You can make a summary that includes your mileage, fuel efficiency, services used, and expenses. This summary can generate reports you can use to assess your driver's or car's performance.
Mileage Log
For tax deductions, a specific mileage log category is required. The Mileage Log spreadsheet you may have used has undergone a significant overhaul. By classifying your trip as business, you can quickly characterize it. In addition, you can make a customized car mileage summary in the Mileage Report worksheet, which you can personalize to serve as your official company mileage report for tax deductions.
Fuel Efficiency Calculator
How is fuel economy determined in this spreadsheet? The definition of fuel efficiency is the number of miles per gallon. It is computed by dividing the last volume by the previous refuelling mileage subtracted from the most recent refuelling miles. The type of automobile, the nature of the trip, and the way you drive all affect fuel efficiency. For instance, you might send your driver to undergo instruction on how to drive your company's automobile to conserve more fuel, or you might assign a more fuel-efficient car for trips with higher traffic density.
For example:
Your most recent refuelling was on January 20, 2016, when 10 gallons were used, and on January 13, 2016, when 11 gallons were used, according to the odometer. As a result, you will have a fuel efficiency of 10.000-9.700/10, which is 30 miles per gallon. Keep in mind that it is expected that you are refuelling your automobile when the tank is almost empty. Therefore, the number should be variable if it only requires one refuelling during a given time frame.
Because of this, fuel efficiency will be determined by averaging these figures. It could recharge between one and one hundred times. There won't be a refuelling chart based on refuelling timings, but you can examine the outcomes in the monthly and annual reports. If you desire one, you can build one.
Scheduling Maintenance and Services
You can record the planned maintenance for your vehicle in their service manuals and track which vehicle needs to be ready for it. You can also make a budget to see how much money has to be set aside for expenses.
Monitoring Expenses
Some vehicles may require unscheduled maintenance more frequently due to poor vehicle conditions, such as if they are rental vehicles or reckless drivers. Therefore, you may need to choose between asking for a replacement vehicle or providing those drivers with training.
Custom Features
This spreadsheet is simple to modify and add features to. Here are a few suggestions:
Analyze the Driver's Performance: You can add additional columns, such as hours, to determine the number of hours your driver drives your vehicles. It will provide you with information to analyze the performance of your drivers so that you can reward or penalize them based on their performance. You can combine this information with the number of accidents, fine tickets, and fuel consumption.
Map Fuel Consumption Chart: You can make other kinds of fuel consumption charts and connect them to the driver or other technical data that could help you determine the fuel efficiency of your vehicles.
Show Fleet Financial Table and Chart: Additional tables and charts can be made for financial needs. When planning a new budget for the following year, you may compare the allotted budget and actual spending by grouping the budget and expenses for your automobiles into one table and visualizing it using a chart.
Compare Rent vs Owned Car Financial Expenses: You can include the cost of depreciation for your cars when comparing all other financial costs with rental cars. You can use it to determine the best cost-effective option for offering car transportation in your business.
This template is completely unlocked so you can develop it at your leisure. And if you're seeking a straightforward Mac or Windows solution that enables seamless data transfer across Excel, Word, and Powerpoint files, this is a fantastic fit.
Related Article: Top Project Plan Templates in Excel & A Complete Guide to Project Planning
Related Article: Lump Sum Contracts | Everything You Need to Know
Finally, it was all about "Fleet Maintenance Spreadsheet Excel". Please do share your feedback in the comments section and SUBSCRIBE us to learn more about Project Management.
Graphic Resources Credit: Designed by Freepik