The key performance indicators (KPIs) are readily used in almost every process and industry to track the performance. Thus, the project managers and business experts always use the KPI dashboard excel template to track the processes for the achievement of a goal.
The KPIs are measurable quantitative values of a process that are critical to track and help to analyze the performance of a process. Thus, business experts and project managers' focus is to identify the best KPIs of relevant processes.
Related Article: Introduction to Project Management Templates
There are several strategies devised for this purpose. However, the use of performance measure strategy SMART integration with 7W's is a very helpful technique.
Once the KPIs are being successfully identified. The next task is to plan, how these KPIs will be tracked in continuous or real-time. Here comes the need for the dashboard.
A dashboard is a visual representation or display of the KPIs summary. Moreover, KPI dashboards provide a very easy and quick overview of the status of the process. However, the set of important KPIs allows the manager to analyze if the process is performing well to achieve a goal.
Let's briefly discuss project management metrics KPIs and dashboards and business KPIs dashboard excel template.
The Elements of a Key Performance Indicator Dashboard
Five to fifteen charts covering a particular topic are included on a standard KPIDashboard Excel Template. Let's use "safety" as an example to illustrate.
It's possible that the safety dashboard would be shown on the manufacturing floor, with the number of incident-free days prominently displayed.
The KPI Dashboard Excel Template safety could include, for instance, the following:
The amount of money avoided being spent on incidents.
The time that the production line has been operational, in days.
A tally of all the time spent at work.
How often safety briefings are held.
The time off taken because of an accident.
The yearly sum of all safety-related expenses.
A significant key performance indicator dashboard relies on straightforward storytelling. In addition: 
Incorporate RAG status indicators
Include a new visual representation of each chart's RAG status indicators and target performance. Knowing whether ten days without an accident is a record or the minimum requirement, for instance, may encourage safe practices among workers.
Qualitative data be included in the dashboard
Text in more sophisticated dashboards is often changed regularly to feature a recent success or provide context for a performance decline. A directional change on a chart can be puzzling to some people, but a clear explanation like this could help clarify things.
How Should You Select the Right KPIs?
Besides settling on a KPI Dashboard Excel Template definition, it's essential to know what dashboard-free template you're making. Is it a dashboard meant to disseminate data or influence actions?
Employees might benefit from increased knowledge of their jobs thanks to the dissemination of information made possible by key performance indicators.
While the majority of the metrics (security, strategy, etc.) should be under your control, there will be specific dashboards that provide data outside of your sphere of influence.
It might provide anything from market data (such as a dashboard-free template of the markets that displays the Dow, S&P, Nasdaq, bond prices, mortgage rates, the price of oil, etc.) to a map that shows the miles of pipe in a city to your consumers.
When appropriately used, key performance indicators (KPIs) may be an effective tool for driving employee behavior and business success.
If an employee's quarterly bonus is directly tied to dashboard performance, they may alter their driving habits in response to a safety briefing.
The second step is to think about who will be using the dashboard. It would be best if you ensured that your key performance indicators were relevant to your target market.
Employees and business operations are at the center of key performance indicators (KPIs) for team leaders and middle managers.
In keeping with our earlier example, a factory manager's safety dashboard is likely to feature key performance indicators (KPIs) that relate to the performance of individual workers and teams, as well as KPIs that show how these metrics affect overall expenses.
Key performance indicators (KPIs) linked to team bonuses might also be displayed on the dashboard free template alongside metrics such as the number of workplace incidents and the duration of individual projects.
Managerial key performance indicators (KPIs) could aggregate to provide an overview of the group as a whole, facilitating quick and easy benchmarking of groups against predetermined targets.
Key performance indicators give upper management a bird's-eye view of sales, expenses, and profit. Instead of being tactical, "boots on the ground" indicators, these KPIs should help leaders judge the business's strategic future.
Key performance indicators (KPIs) for accidents, high-risk tasks, inspection failures, and similar issues could be set up to trigger a red-alert dashboard for a factory's management team if they fall below expected levels.
It helps bring to light potential revenue-impacting concerns for a swift resolution.
Creating a Key Performance Indicator (KPI) Dashboard Excel Template: 5 Easy Steps
Creating A Chart Is Collecting the Relevant Data
You can expect your data to have two axes: one representing time and the other representing the variable of interest. You can make things simpler by creating a separate worksheet for each measurement.
Choose The Highlighted Information
The "Insert" tab of Excel's ribbon provides helpful chart suggestions.
Cut And Paste Your Chart into A New Sheet
You can easily accomplish it in Excel for all the charts you'll be using in your Dashboard Excel Template. A dashboard-free template is just these charts placed on a new sheet.
Change The Size of Your Charts
Your significant diagrams should be your focus, while your minor diagrams should take up the least amount of space. Just grasp the edge of the graph you want to move.
Check The Right Size for The Screen on Which It Will Be Displayed
Make sure the KPI Dashboard Excel Template won't look grainy on the TV screen it will be shown on. It's essential to adjust the control panel if it's displayed on a portrait-oriented computer screen.
Are you managing a business or critical function of a business and looking forward to using KPIs Dashboard? Firstly, it is important to decide what are the Key Performance Indicators use need to track.
So, Checkout out our complete guide on Project Management KPI Metrics and How to Create Project KPIs.
Related Article: Project Management KPIs and Dashboards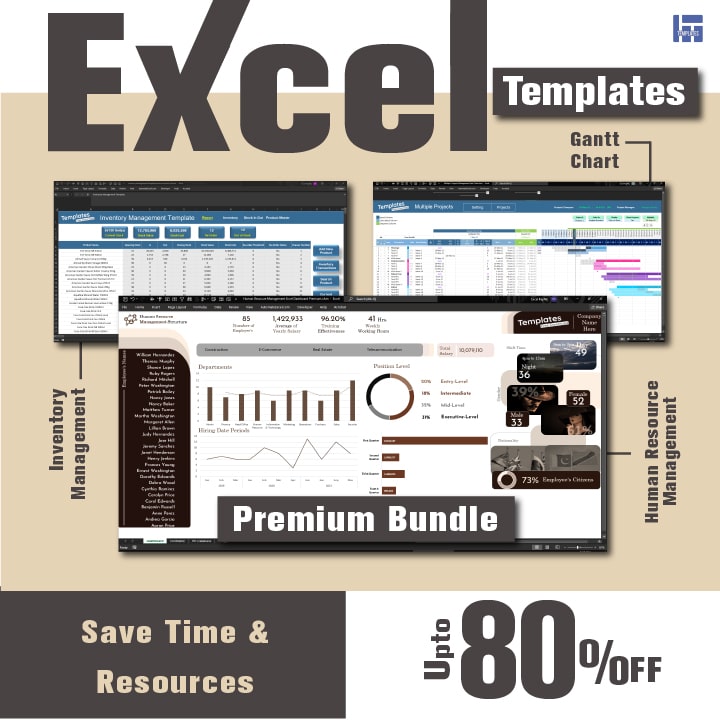 Challenges to Creating Key Performance Indicator Dashboards Using Excel
We advocate using Excel for solo projects or as a location to explore while your firm is first constructing its strategic reports because it is a fantastic tool.
However, suppose you have a good management reporting process in place and know what you want to measure regularly (monthly or quarterly). In that case, Excel can present some serious challenges.
You've finally outgrown Excel when problems like this start cropping up regularly:
Erroneous information is produced when copied and pasted from other workbooks. Most businesses use many worksheets with several tabs each.
Over time, the number of papers and tabs inside those documents will increase as more KPIs and information are added. It's impossible to keep track of everything without making some mistakes.
Taking the time to do everything manually is not feasible. It may include adding new data, remaking charts, including analysis, and erasing older data, all within a single month.
These errands might become very time-consuming as your reporting needs expand.
Customization of report forms is a hassle. Visuals and graphs are not Excel's strong suit. You can design your custom charts, but any changes you make would necessitate refreshing every chart individually. Thus, Excel lacks the ability to create repetitive, versatile templates.
It's inefficient to use multiple programs at once. Because Excel is rarely the end destination, you will often need to copy and paste data into PowerPoint or Word and then reformat it.
It increases the time and effort required to finish your report or dashboard and the number of applications you'll need to learn to use. Also, Excel, PowerPoint, and Word are required for any editing. It creates more work and the potential for mistakes.
There are problems with version control if files are emailed. Since Excel doesn't support simultaneous editing by many users in the cloud, spreadsheets are typically emailed and kept in shared drives (or on PCs).
Inevitably, people make different versions of the same document, and you must pick out the most accurate, up-to-date file. There is a significant time commitment involved here.
It is standard practice to incorporate outdated information in stakeholder dashboards, which slows down the decision-making process.
The top five issues our clients have had while using Excel.
A KPI Dashboard Excel Template Is a Great Substitute for Excel
Excel's pros and cons will vary with the maturity level of your business, so it's important to remember that there are always other solutions available. Templates Free Download strategic planning and reporting software give you a powerful option when you need a repeatable process, automated tools, and real-time data. Using Templates Free Download for your reporting and KPI Dashboard Excel Template has many advantages, including:
Data entry is simplified because it is performed once. When new data is added or existing information is modified, the appropriate charts, reports, dashboards, and other visualizations will be updated immediately. Time is conserved, and human mistake is minimized.
It's simple to make changes to a free template. It's a cinch to modify a free template and apply those changes globally across all charts and dashboards. You can modify and include your company's branding in the reports, giving them a more polished and uniform appearance. It may be especially essential if your firm distributes its dashboards externally.
Create and export your reports in XYZ with ease. Your information and strategic reports will be stored in a centralized location. Users with the appropriate permissions can see dashboards, update data, and download reports in various formats (PDF, PowerPoint, and even HTML).
You can create an endless number of dashboards or reports, which can all be safeguarded by administrative controls.
Both quantitative and qualitative data can be shown at the same time. With XYZ's charting capabilities, you can show quantitative data adjacent to qualitative data, giving the figures more meaning by including context and historical data. Audiences can see trends from month to month or year to year, for example, whereas Excel overwrites old data so that they can make more well-informed judgments.
The information and visuals can be put to use in various settings. You can use the same graphic in numerous KPI Dashboard Excel Templates or construct multiple charts from the same data set to draw attention to different areas of the information for different audiences.
Once again, data entered into one place may be immediately accessed by many visualizations.
Dashboards may be easily filtered to show precisely the info you need. Any user may easily filter dashboards to present the correct information for the right audience, such as the red-alert dashboard we mentioned earlier for leadership teams, without needing assistance from an Excel expert.
Data is always up-to-date, thanks to the real-time nature of dashboard-free template updates and the ease with which they may be generated on the fly.
KPI Dashboard Excel Template for Project Management
The project managers make use of the KPI dashboard excel template daily. Because the KPI dashboard excel template provides a quick and easy visualization of process key performance indicators to track.
Also, the project management team uses the project management KPI dashboard in excel for daily decision making keeping in view the real-time data of process KPIs.
So, any abnormality in the project KPIs value is an indication of some issues. Thus, the project manager can identify the issue and work to resolve it on time. If these KPIs are left unmonitored. The issues will stay unnoticed before making a severe impact on the project metrics.
Furthermore, the actual role of the KPI dashboard template in excel is to provide enough information for daily analysis to avoid the eruption of any risk. Similarly, the project managers use the KPI dashboard template excel in meetings to show the efficiency of tasks they are responsible for.
Also, the project stakeholders use the KPI dashboard in tableau to analyze the actual performance graph of a project. Thus, the investors compare the actual performance of KPIs with the project plan and analyze its rigidity.
Further, the display of the free KPI dashboard keeps on changing. As the purpose of using KPI dashboard google sheets is to analyze the most relevant information of any stage. Thus, it's not static and information on the display of the tableau KPI dashboard keeps on changing from stage to stage.
Finally, the project KPI dashboard template in the tableau is the best tracking tool to analyze the project performance and communication medium to bring all stakeholders on the same page.
Project Management KPI Dashboard Examples
A simple project management KPI dashboard template excel includes information about project health, schedule, progress, and issues.
So, the health part of the display includes the key performance indicators in the form of consumed resources, elapsed time, potential risks, and open issues.
However, the schedule section displays information about the tasks. Like how many tasks are completed? What tasks are in-progress and what is coming next?
Similarly, the project progress module is used for monitoring parameters like the achievement of milestones and goals.
Moreover, the issues section display and track the status of open issues of issue tracking spreadsheet.
Therefore, the issues section of the project KPIs dashboard includes information about the resolved and open issues. Also, it defines the priority of issues resolution based on their severity and impact.
Related Article: Best Simple KPI Template XLS Excel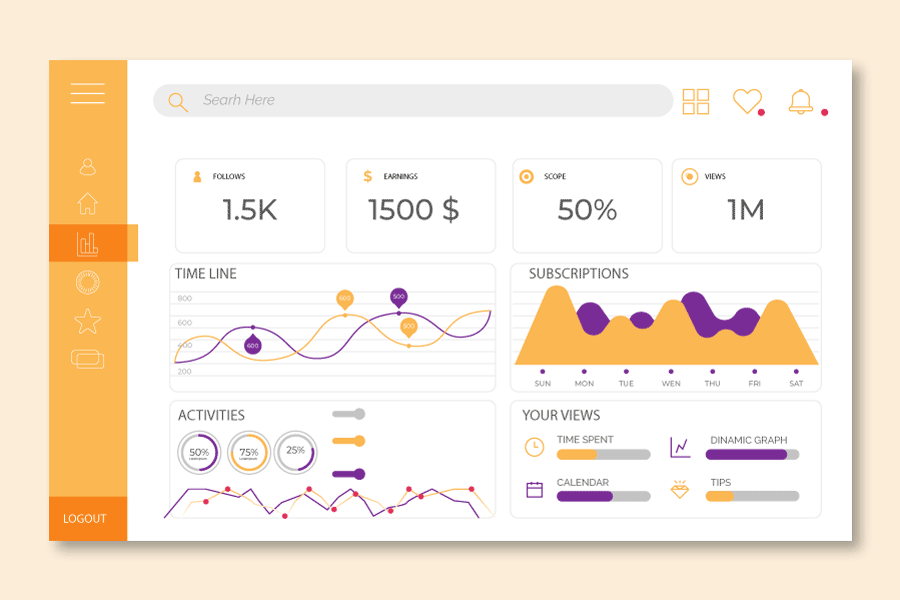 KPI Dashboard Template for Businesses
There are several KPI dashboards helpful for the efficient management of business functions. As every company has several departments to ensure the proper functionality of a business.
So, the right approach to achieve the set goals to break the goal into small milestones.
These milestones are allocated to the relevant department to fulfill their responsibility for achievement. So, the department heads define departmental KPIs which are displayed on the KPI dashboard template.
Thus, it enables the department head to continuously track the performance of KPIs.
Related Article: Business KPI Template Excel XLS
Business KPI Dashboard Excel Template Examples
The following are the most common tableau KPI dashboard excel templates for different business functions.
Marketing KPI Dashboard
Sales KPI Dashboard
Financial KPI Dashboard
Retail KPI Dashboard
Human Resources KPI Dashboard
Manufacturing KPI Dashboard
SEO KPI Dashboard
The following KPI dashboards are based on the general KPIs of businesses. However, every business needs to define its Key Performance Indicators very carefully. So, check out our guide on How to Define Business KPIs.
Related Article: KPI Templates
Marketing KPI Dashboard Excel Template
The marketing and advertising experts use a KPI dashboard in Tableau to monitor their daily targets and achievements. So, these experts define a set of KPIs that are very helpful in tracking department performance.
Thus, the marketing professionals KPI dashboard google sheet or share point display the following information.
Related Article: 12+ Free Project Tracking Templates for Excel | Project Trackers
Marketing Budget Remaining
Marketing Expenses to Date
Cost per Lead
Inbound Leads
Ads Response Rate
Net Promoter Score
Visitor Conversion Rate
Website Visitors
Social Followers
Social Reach
Sales KPI Dashboard
The sales KPI dashboard best practices are to track the performance of the sales department using KPIs. So, the sales team uses statistical tools for analysis of KPIs. Thus, the analysis results and KPI values are displayed on the sales KPI dashboard excel template.
Further, the sales experts usually divide the KPI dashboard into three sections. Few KPIs are important to track daily. While others are for weekly and monthly periods.
Thus, the following sales KPIs are important to display on the KPI dashboard for real-time monitoring.
Average Sales Revenue
Cost of Sales Team
Number of Sales
New Sales Revenue and Percentage
Opportunities
Total Sales Revenue
Quotes
Value of Quotes
Successful 'Up Sales'
Financial KPI Dashboard Google Sheets
The financial experts use a KPI dashboard in Tableau to track the performance of financial KPIs. Further, these experts define a set of KPIs that are very helpful in tracking finance department performance.
Thus, the financial professionals KPI dashboard google sheet or share point display the following information.
Related Article: Best Free Project Plan Templates for Excel | A Complete Guide to Project Planning
Cost of Goods
Gross Profit Margin
Net Profit Margin
Net Profit
EBIT
Number of Employees
Revenue
Working Capital
Retail KPIs Template
The retailers use a KPI dashboard in Tableau to track the performance of a retail shop or franchise KPIs.
Thus, the financial professionals KPI dashboard google sheet or share point display the following information.
Cost of Goods
Gross Margin
Customer Retention
Net Sales
Online Sales
Offline Sales
Retail Price
Shop Visitors
Site Traffic
Visitors Buying Ratio
Human Resources KPI Dashboard Excel Template
The HR department of the project or business uses the human resource KPI dashboard to visualize the performance of HR functions.
Also, the role of the human resource department is to make sure the availability of the best talent for the required tasks at the right time.
However, many activities require keen attention of the HR department for fulfillment.
Therefore, the HR KPI dashboard excel template displays information such as total salary, average salary, total benefits, average age, gender ratio, permanent rate, turnover rate, and absenteeism rate.
Thus, the following KPIs are valuable to display on HR KPI Template in tableau.
Total Employees
Total Cost of Healthcare
Number of Workdays
Number of Vacancies
HR Expenses
HR Budget
Absence Rate
Manufacturing KPI Dashboard in Tableau
The manufacturing KPIs are very helpful in the manufacturing industry on the production floor. So, the target of manufacturing the KPI dashboard is to assist in proper tracking of the manufacturing process performance to maximize productivity.
Thus, a simple free manufacturing KPI dashboard includes the following information on the display:
Related Article: Production Capacity Planning Template Excel | Capacity Planner
Production Volume
Order Volume
Active Machines
Sales Revenue
Top 5 Products
Downtime
Returned Items by Reasons
SEO KPIs Template
SEO KPIs are defined to monitor the performance of online marketing activities. Also, the search engine optimization of a business website attracts more organic traffic to visit the company website.
Thus, the companies focus on SEO to reach maximum people using an online platform to generate leads. Furthermore, the following KPIs are very important to display on the SEO KPI dashboard excel template.
Average Session Duration
Bounce Rate
Keyword Ranking
Total Impressions and Views
Inbound Links
New Visitors
Call Center KPI Dashboard Template
There are a lot of KPI involve in Call Center business performance tracking. These KPIs are used to track the performance of individual call representatives.
Thus, the call center manager uses call center KPI dashboard to analyze the completion of the task and performance of subordinates.
In Short, the key performance indicators (KPIs) are very critical parameters of the processes to properly monitor, track and control.
Thus, the KPI dashboard tool helps the teams to display the information of KPIs in a visually appealing way. So, the managers can get a quick view of how well the department is performing to achieve the set goals.
Also, the continuous tracking of KPIs using KPI dashboard alerts about any abnormality in real-time before the occurrence of critical issues.
Further, it is a choice of manager to use MS Excel integrated with share point, Google Sheets, or Tableau for KPI dashboard creation.
Finally, it was all about the "KPI Dashboard Excel Template". So, please do share your feedback in the comments section and SUBSCRIBE us to learn more about Free KPI Dashboards Examples.
Graphic Resources Credit: Designed by Freepik