Do you wish to understand how to make a Microsoft Word timeline go from boring to beautiful with a few easy adjustments?
The good news is that you can have professional-looking timelines without putting in extra work or being a graphic design expert. With these tweaks, you can make a brand-new timeline that stands out from the crowd and has your coworkers screaming for a copy of your Design.
In this article, the step by step guide on how to make a timeline in Word is provided with pictures for easy understanding.
Also, a free Microsoft Word timeline template is available to download and use for any type of project with simple editing and customization steps.
So, read the full article to learn how to create a timeline in Word free template with tips of formatting for creating stunning visual effects.
Related Article: Steps on How to Make a Timeline in PowerPoint & Free Template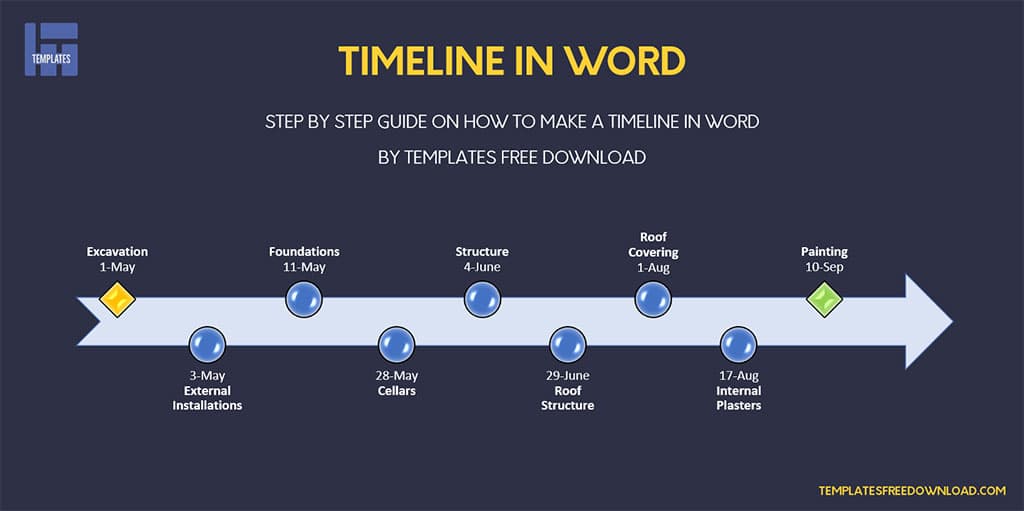 What is a Project Timeline in Word?
A timeline is a presentation of sequential events along a line that helps the viewer to understand the time-based relationship between the events quickly.
Previously, the chronological tabular timelines were more common that contain more text than graphical figures. However, now infographic based timelines are very more useful and appealing to the audience.
It contains text along with graphical images for a stunning presentation. There are tons of activities involved in the project for the achievement of goals.
These activities require adequate planning and execution to ensure project success. So, project tasks are scheduled over-time, keeping in view the inter-linking sequence.
Thus, project timelines are helpful for the project managers to visually analyze the tasks start date, end date, sequence, and duration.
Thus, making a timeline in Word also provides an elementary view of tasks start and end dates, duration, and sequence.
Further, the following information is available on the timeline.
Project Start Date
Project Tasks
Tasks Start and End Dates
Duration of Tasks
Tasks Inter-Links
Project End Date
There were a lot of tools available for creating project timelines before the advancement of computer technology, such as magnetic blocks and Legos TM.
So, now mostly timelines are created using Word, Powerpoint, Visio, Excel, Google Sheets, and Project Management or Gantt chart software.
Applications of Timelines in Business
Timelines are visual representations of the passage of time. You can use this whenever you need to demonstrate the passing of time. Timelines have multiple uses in the classroom and the workplace.
Below are some of how a timeline might be helpful in the business world.
Give a timeline of how long it took to finish each stage of the project or estimate when you finish it.
Dates for each of the business launch's phases should be provided.
Spell out your marketing strategy and include a timeline for when your promotional items will be released.
Use icons to depict significant events in the company's past.
Uses for timeframes are varied and numerous. As you experience making timelines, you'll think of creative ways to put them to use.
Applying a template is the fastest approach to creating a timeline. Using a template can reduce the time spent creating something from scratch. Then, all the heavy lifting in terms of Design is completed.
Related Article: Steps on How to Make Gantt Chart in Excel | Free Template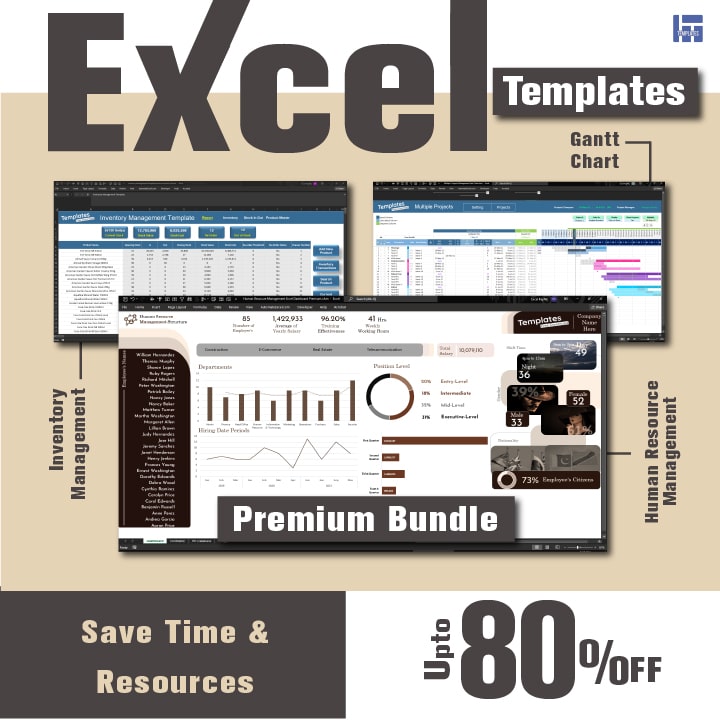 Advantages of Creating a Timeline Using Microsoft Word
Some advantages of using a Word timeline are as follows:
Brings your Plan to Life
Making a visual representation of your project and the timeframes for its components can be helpful. Since a timeline is linear, it can also help you understand how your activities relate to one another. Generally speaking, you should prioritize the tasks that appear earlier on the timeline. Creating a visual representation of your project might aid in your comprehension of the work at hand and the resources you'll need to complete it.
Facilitates Communication About Future Endeavors
After creating a timeline for your project's execution, you can use this visual aid to share the project's specifics with stakeholders. The image simplifies communication with clients or coworkers by laying out the project's timeline alongside relevant facts. Clients may rest easy knowing you'll finish on time if you present a detailed timeline for the job. It details the actions you intend to take and in what order during the project's lifespan.
Includes a Citation for Future Use
A timeline helps track how far a project is once it has begun. Keep checking your timeline to see what's next and when it's due as you go through tasks and deadlines. You can refer to the timetable you made if you need to confirm dates with a team member or the customer, or if you are falling behind on duties. You can change it as the project progresses to reflect the most recent deadlines and activities.
Significant Limitations of Creating a Timeline Using Microsoft Word
We had a great time making our timelines with the help of SmartArt Graphics and tables, but did that seem a little drawn out?
Building a simple table required numerous clicks and careful navigation in Microsoft Word's timeline. As widely used as Microsoft Word is, it lacks the flexibility to keep up with the needs of today's office.
Before devoting effort and money to learning Microsoft Word, consider the following.
Word is a powerful tool, but it takes a lot of work to accomplish anything worthwhile.
Planning and managing ongoing projects that require automation features is not Microsoft Word's strong suit.
Microsoft Word's Ribbon and toolbar features vary between versions.
Desktop versions of Microsoft software (including Word, PowerPoint, Excel, and more) don't come cheap. Prices for only the Word app begin at $159.99.
It Sounds like you could benefit from finding an alternative to Microsoft Word.
s
How to Make a Timeline in Word?
There are a lot of tools to make a Timeline. However, Microsoft Word is a handy and universal tool due to its advanced graphing feature of creating Smart Arts such as list, process, matrix, cycles, and hierarchy.
Moreover, it requires minimum effort to make a timeline using a Word template for the timeline. Thus, many project management companies prefer to use a free template in Word, PowerPoint, Excel, or google sheets for timeline making.
Furthermore, the presentation of the project timeline to clients and executives require easy steps to make a timeline in MS Word, Project, or PowerPoint.
Although, many Word timeline add-ins and extensions are available to create stunning project timelines quickly. However, MS Word itself has a SmartArt feature for creating a graphic timeline in Word template.
So, the step by step complete guide for making a timeline in Word Docx using Smart Art feature is given below.
Also, is it a bit hard to handle the MS Excel data table in MS Word and create a timeline using it? Don't worry, we present a simple solution to this problem. So, check out our complete guide on How to Make a Timeline in Excel.
1. Create a New File and Change the Page Orientation in Word
The flow for changing the page orientation is Layout > Orientation > Landscape. So, the description of the process flow is:
Create a new MS Word Docx or Doc file for making a timeline.
Then navigate to the Layout tab and page setup section from the ribbon.
So, click on the Orientation button and choose landscape from the dropdown list.
2. Insert Basic Timeline from Smart Art Feature in Word
The flow for this step is Insert > SmartArt > Process > Basic Timeline. So, the description of the process flow is:
Navigate to Insert tab and Illustrations section from the ribbon.
So, click on the SmartArt button and choose the Process tab from the pop-up window of "Choose a SmartArt Graphic."
Moreover, click on the Basic Timeline icon and OK to insert a timeline in Word Template.
Related Article: Steps on How to Create a Timeline in Excel & Free Template
3. Unlock the Position of Timeline to Locate anywhere on the Page
The flow for this step is Format > Position > With Text Wrapping. So, the description of the process flow is:
Navigate to the Format tab and Arrange section from the ribbon.
So, click on the Position button and choose any position from the With Text Wrapping section of the dropdown list.
Related Article: 5 Steps to Project Closure using Free Checklist Template
4. Type the Tasks Text in the Basic Timeline in Word
Navigate to "Type your text here" window of the Basic timeline and click on the "[Text]" filed to enter the text.
Then make a tabular list of project activities in excel containing description and start date of tasks.
Finally, Insert the data of each task turn by turn and press "Enter" to insert more fields on the timeline in Word template.
Related Article: Free Project Schedule Template | Gantt Charts and Timelines
5. Step for Formatting of Timeline in Word
All the above steps help to create a timeline in Word. Now, a few formatting edits are required to make it looks attractive to the audience.
Also, does your client wants you to present a project timeline in PowerPoint presentation? Don't worry, you can create a similar stunning timeline in MS PowerPoint. So, check out our guide on How to Make a Timeline in PowerPoint.
Resize the Basic Timeline in Word Template
Click anywhere on the Basic Timeline for selection.
Then hold on the Shift key and press the Right Arrow key to extend the length of the timeline.
Moreover, hold on the Shift key and press the Down Arrow key to thinner the width of the timeline.
Change the Font Style
Click on the text of any task. Then hold on Control key and Left click on the text of each activity for selection.
Now change the text font style, size, and attributes for customization.
Customize the Timeline Design
Select the timeline and navigate to the SmartArt Design > SmartArt Styles section.
Then click on the desired style to apply.
Related Article: 30+ Free Project Management Template Excel Spreadsheets (2020)
Further, Right-click on the first task shape to change its color for making it visually simple to understand the start of the project.
Now, click on the Fill button of the pop-up and choose the desired color.
Also, repeat steps 3 & 4 for the shape of the last task.
Make the selection of all shapes by holding the Control key. Further, hold on the Shift and Alt key to resize all shapes with the same aspect ratios and fixed centers.
Then select all odd tasks shapes and click Up Arrow key to relocate to the top edge of the drawn line.
Also, repeat the above step to relocate even task shapes to the bottom edge of the drawn line.
Related Article: Free Project Risk Management Plan Template Excel [XLS]
Finally, select the first and last task to change the shapes. Navigate to Format > Change Shape and choose any shape from the basic shapes section of the dropdown list in Word.
6. Tips to Make Stunning Timeline in Word
The timeline created by following the above steps may not visually fit the color scheme of the project team and executive meeting presentation.
So, the following tips are helpful for the Word timeline template creator to make visually stunning timelines in Word free template.
Navigate to Layout > Size > More Page Sizes. Then change the parameters on page setup pop-up and click on the OK button to apply changes.
Further, navigate to Design > Page Color to change the background color of the timeline page in Word template. So, choose any color from the dropdown pallets or click on the More Colors button to make your customized one.
Moreover, navigate to Insert > Text Box and insert a text box. Also, change the font and paragraph settings to fit the theme of the Word template page.
Related Article: Production Capacity Planning Template Excel | Capacity Planner
Free Download MS Word Timeline Template
I have prepared a template to make the timeline in Word a matter of few clicks.
So, simply free download the pre-made Word timeline template .docx file and customize the tasks text and start date.
Thus, it will automatically create the Timeline in Word for your project with little to no effort.
Further, the project timeline isn't everything you need to schedule your project. Instead, Gantt Charts provide better and deep control over scheduling project tasks and resources. Thus, check out our guide on How to Make a Gantt Chart in Excel.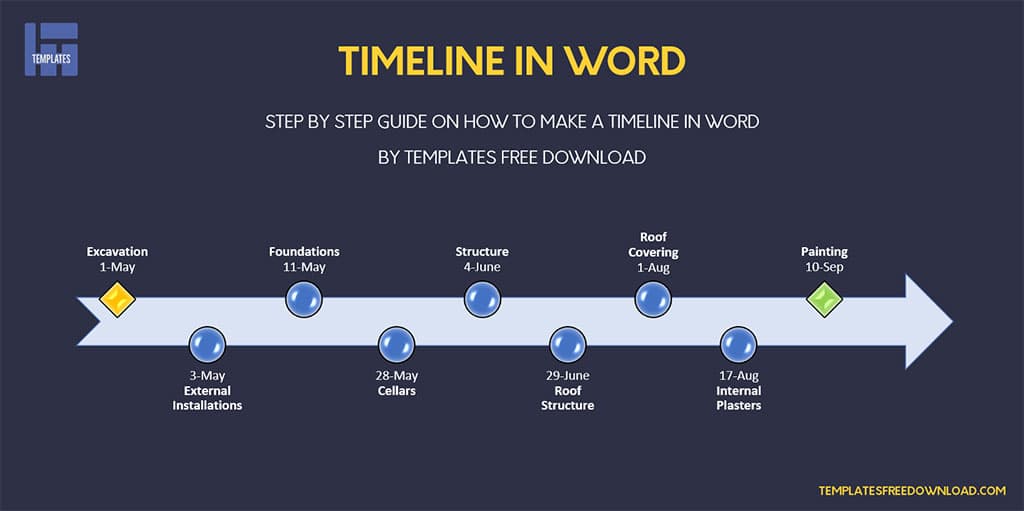 Frequently Asked Questions
There are many questions in the FAQ list of Timelines. However, the basic ones are:
What is the Timeline?
A timeline is a chronological sequence of tasks based on temporal relationships. Also, it provides information about the project start date, tasks start date, task duration, dependency sequence, and project end date.
How do I make a Timeline in Word?
MS Word 2007, 2013, 2016, or 2019 is beneficial to create a timeline using a Smart Art feature.
So, just insert the process basic timeline SmartArt preset and enter the task text data. Further, customize the timeline appearance for graphical enhancement.
What are the 4 Steps to Make a Timeline in Word 2016?
The following are the four simple steps to create a timeline in Word 2007 to 2019.

1. Create a new Docx file and change the page orientation to landscape.
2. Insert the new Basic Timeline using the SmartArt feature.
3. Enter the Tasks text in the basic timeline text box.
4. Reformat the timeline design to make it visually understandable.
How to make Timeline in PowerPoint or Excel?
The following simple steps are useful to make a timeline in MS PowerPoint or Excel.

1. Go to Insert tab and click on the "SmartArt" button. Then go to process and choose a basic timeline to insert.
2. Enter the text of the tasks and reformat the timeline length, width, text font, shapes, and color scheme.
Does Microsoft Word offer premade timeline templates?
While Microsoft Word does not come with any premade timeline templates, you can use some samples available for download online in place of the program's own. One place to look is Office Templates, though you can also find them elsewhere online. However, these typically prove inadequate when dealing with complex data or extensive customization needs.
Since PowerPoint timelines are more suited to formal presentations, we recommend their use instead. Automatic and specialized tools, such as Office Timeline, make it simple to create such visualizations, saving you considerable effort.
Finally, it was all about the "How to Make a Timeline in Word". Please do share your feedback in the comments section and SUBSCRIBE us to learn more about Project Management.