If you are underperforming at work, the management can give you a final chance to argue. As a result, you may come across a performance improvement plan template.
Usually, the company's head uses the PIP who wants to help you improve. But the risk of disciplinary action also comes with it, i.e., demotion, dismissal, or termination. So, let's see what the PIP is?
Related Article: The Ultimate Guide to Project Charter Template
What is a Performance Improvement Plan?
Generally, a performance improvement plan (PIP) is a formal letter stating any recurring behavioral or performance issues. It provides employee a guideline to follow to regain good standing at the company.
It is also known as a performance action plan. The PIP usually outlines
a specific timeline to complete the employee's plan to regain a level of standing at the organization.
An employee's performance improvement plan is written by the manager and submitted to HR. It includes a deadline for meeting the mentioned objectives. It also states the penalties which the employee face if his performances fall short.
For example, the PIP can detail the training or skills the employee lacks. Alternatively, it could indicate how he needs to change his behavior. In either case, the report will clearly define the steps the employee needs to improve his performance.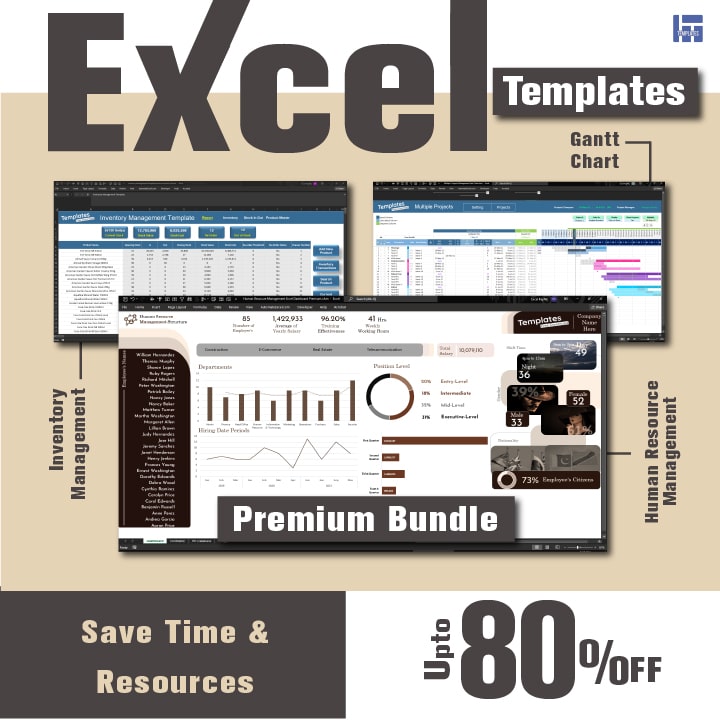 How is a PIP Different than a Performance Development Plan?
A PIP and a personal development plan are often thought to be the same. However, they are quite different. The main difference is the emphasis on the specific areas where the performance is lacking. Although both focus on performance, the aim of each is the different.
A PIP is a detailed plan used to resolve workplace productivity issues of an underperforming employee. In contrast, a PDP is a board plan of action. It acts as a tool to help employees who meet or exceed the expectations to enhance their abilities and talents even more.
Nearly a PIP gets an underperforming employee to the minimum required performance level, while a PDP defines opportunities to grow good employees more.
Related Article: Action Plan Template
What is the Purpose of a Performance Improvement Plan?
Usually, HR uses performance improvement plans as a formal notice of probation to satisfy employee's law and regulation.
So, they often use it as a justification to terminate an employee who is not performing well.
On the other hand, the PIP support employees whose performance
has slipped or otherwise needs improvement.
The objectives of PIP vary depending on some factors but it often serves to achieve the following outcomes:
PIP guide one-on-one meeting between manager and employee.
It describes performance expectations.
PIP Communicate issues with particular workplace performance.
Determine the reasons for the underperformance.
Indicate to all parties involved the expectations for future improvements.
Acts as a legal notice to the underperforming employee that what will be the consequence of not improving the named areas.
This document indicates the poor performances of the employee and past warnings.
A performance improvement plan makes it more difficult for the employee to challenge the reason for dismissal.
Use of Performance Improvement Plan Template
The world is moving towards creating a peaceful work environment by creating a comfortable workspace for the employees to work progress free handheld.
These workplaces meet the HR criteria and needs of the individual's needs and requirements very well. Keep enhancing the performance improvement as a top priority.
Another rising PIP style and its rapid evaluation has given a rise to the individual status and thus saves the desired amount of output. These days, a target of output is set to control each project's incorporated sections where these workers are deployed.
After the assigned time, the believed output is to be compared with the expected outcome. After that, the difference retails out the deficiencies and weak policies that resulted in poor performance. PIP is the graphical evaluation and evaluating of the employees' updated output on their given tasks.
As a sum computing organ, this performance and excel template works as a computing organ for any project. It can be the only device for compressing unnecessary extension in project components, derailing the useless parts of performance and activities which are a source of time and resource depletion.
Related Article: Top Project Plan Templates in Excel
The Benefits of a PIP
The primary benefit of a performance plan is to resolve the issues leading to poor performance. The question is, why a company uses PIP when it can simply dismiss the employee?
There are some benefits to using PIPs.
Better company culture: PIP promotes a sense of accountability. Every employee knows that he must meet the prospects or face disciplinary action. This sense of duty creates a positive culture.
Hard-working and efficient workers feel appreciated by knowing that everyone will pull their weight. Struggling members know that managers will support them if they fail to meet the expectation by providing them more guidelines.
Save time and money: Helping employees improve their performance eliminates the expenses linked with firing workers and hiring new ones.
It also saves time by preventing the need to held interviews and training for new herrings.
Provides solid evidence: A majority of people react badly to criticism, even when it is constructive. To make the situation worse, most people argue that feedback is wrong.
Collectively, it means that employees often refuse reviews and do not try to perform better.
In this way, PIPs provide employees feedback with evidence, and they can not deny it.
Moreover, it also helps them perform better by highlighting the reasons for poor performance.
When Not to Use PIP
Using a performance improvement plan often comes with risks for both the manager and the employee. It is a common belief that the PIP is a warning that they are heading towards
transfer, demotion, or dismissal.
It is believed that PIP is just a formality; the decision of termination is already in motion.
On the other hand, if an employer immediately terminates the employee, there can be a risk if you fail to produce proper documentation.
Therefore, consider using an employee improvement template to improve workplace performance with clear communication. Otherwise, you will lose the employee.
Related Article: Best Project Tracking Template Excel
Design Performance Templates for Project Scheduling
When the allotted time has passed, the regarded product must be evaluated to the standards and anticipated results. The discrepancy reveals the flaws and ineffective tactics that prevented them from achieving the predetermined goals.
This is essentially a visual examination and assessment of the employees' simplified results from their assigned jobs.
It may be the only tool for compacting unneeded extension parts of the project, derailing the pointless parts of performance and activities that are a significant source of time and resource waste, and serving as a computing organ of a sum of performance and excel templates for any project.
Report on Project Management and Improvement
When it comes to software assistance, there are tens of thousands of Project Management Templates that are easily accessible on the internet.
Performance assessors can download these templates and make the necessary modifications following their business or project's specific patterns and procedures.
These are categorized as the rigid distribution of a project's general divisions, and highlighted areas are given more room.
A project manager can download these tools, input the necessary data, and use the proposed formulas. To identify the problematic areas in the workforce and workspace easily.
Implement a Performance Improvement Plan
Before starting this talk, it's crucial to remember that a Performance Improvement Plan is intended to assist team members in becoming better.
So consider this a dialogue where you go and provide helpful criticism and develop specific next steps for growth.
The advice provided below can help you enter a conversation with an open mind and assist your team members in properly digesting the information.
Prepare your team member
If this is your first time having a PIP chat, you could wish to do so without alerting the team members; however, you can concentrate the talk on useful improvements by letting the team member know in advance.
Stay upbeat
A performance improvement plan is intimidating, but at its core, it's also an opportunity to improve, so long as you deliver constructive criticism to a team member and keep a positive attitude.
Actively listening
Your objective should be to listen and try to understand once you are face to face. Speaking one-on-one might make issues you weren't previously aware of, which could impact the performance improvement strategy you develop together.
Inform them that you will assess their progress
Inform your team members that you will be available to assess their progress and provide encouragement as they complete their PIP steps. Additionally, it served to hold them responsible and focused on their objectives.
Find the source of the issue
One-on-one meetings can be a fantastic place further to explore the fundamental causes of work performance challenges. Then, you can devise a better suitable course of action by getting to that fundamental cause.
Establish a definite path to success
Pointing out what the team members are doing incorrectly is useless unless you provide solutions. The PIP action plan is useful in this situation.
How to Create a Plan for Performance Improvement
It will be necessary to sit down and deliberate with your team member before writing a performance improvement strategy.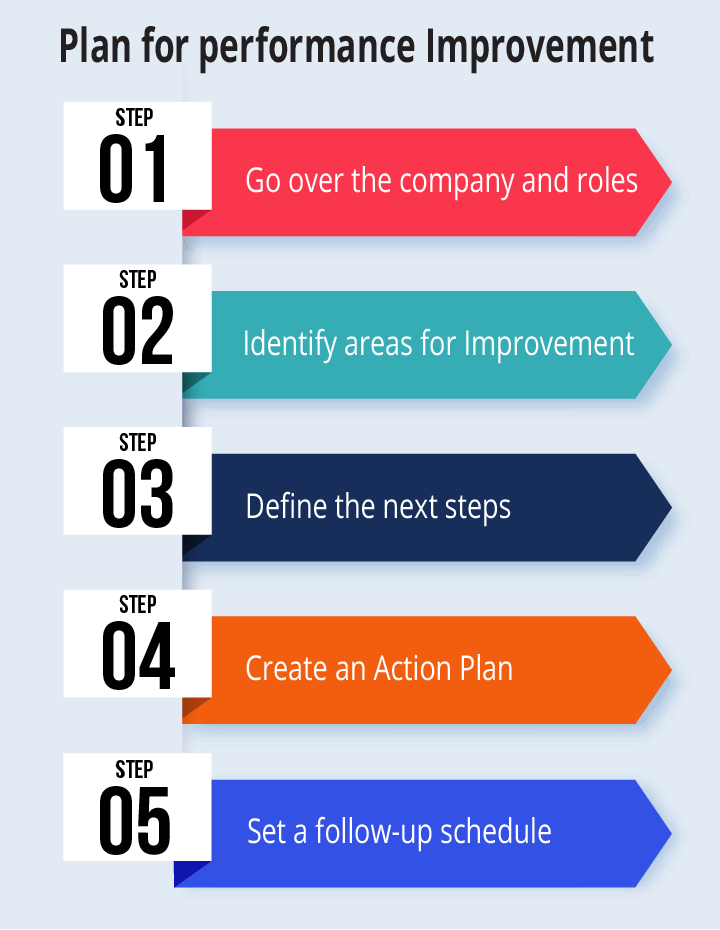 Prepare your evidence for accusations of performance difficulties among your team members before the meeting. During the meeting, create a PIP using the procedures listed below.
Go over the company and roles and expectations
Identify areas for Improvement
Define the next steps
Create an Action Plan
Set a follow-up schedule
Objectives of the Performance Improvement Plan
Monitoring the development of your team members over time is one of the most crucial steps in the PIP process.
Without this step, there is no way to tell if the PIP is effective. When goals and tasks are visualized side by side, team members can:
Remind team members to adhere to deadlines
Real-time tracking of team member progress
Monitor your progress on previous performance reports
Plan follow-up conferences
Team members should participate in these procedures for complete openness.
How to Use Performance Improvement Plan Forms
A well-planned performance improvement plan template XLS is a valuable tool. Also, it includes data that conveys the specific performance improvement points you're asking the employee to produce.
An employee who reads the PIP doc should understand the concerns, areas of improvement, and the desired outcomes.
So, to ensure an effective PIP process and achieve the desired outcomes, use a step-by-step performance improvement plan template word document to execute the plan.
Step 1: Define Performance Issues
Be proactive. Observe and document the performance issues over time. So that, you have a comprehensive understanding of the employee's deficiencies.
Step 2: Develop an Action Plan
Before implementing the pip plan template, craft the action plan. A well-prepared action plan serves as the outline for correcting employee performance issues.
Additionally, preparing the improvement plan for employees provides enough time to identify the necessary resources, schedule, coordinate; and frame an accurate PIP timeline.
Step 3: Ask For Feedback
Review the first draft of your PIP and ask for senior feedback before submitting it to HR for approval. If you are using a PIP the first time, consider using a performance improvement plan template excel.
Step 4: Held a Meeting
Schedule the date and time of the PIP meeting and share with all participants. Assign enough time to have a debate and expected questions and feedback from the employee.
Step 5: Review Growth
Execute the PIP with the employee, schedule follow-up meetings for the final review. Use the check-ins to provide resources, feedback, and support.
Include time for progress reports in weekly conferences and schedule these meetings' dates in the action plan timeline of PIP templates.
Step 6: Conclusion
Plan a final meeting. Review the employee PIP template and conclude the plan with the proper actions based on the PIP's prospects and outcomes. If the result is dismissal, prepare accordingly for closing the meeting.
Project Management and Improvement Status Report
There are thousands of Project Management Templates which are readily available on the internet. Performance evaluators or project managers can download these PIP templates and make the desired changes according to their business or project.
These performance improvement plan spreadsheets are classified as the rigid distribution of general sections of a project. Also, there are sections with extra space in these improvement plan sample letters.
A project manager downloads these word documents, enter the relevant information, and apply the suggested formulas. He can easily track the faulty sections in the work area.
Now, after getting this, you can be able to download free employee performance improvement plan template excel.
Top 5 Frequently Asked Questions about Performance Improvement Plan
There are many questions in the FAQ list of PIP Template Excel. However, the top 5 and the basic ones are:
What is the purpose of a performance improvement plan?
A performance improvement plan is a document employer use to inform employees about poor performance or deficiencies, improve the performance.
It also defines possible outcomes if they don't improve the named areas by a specified date.
What should be included in a performance improvement plan?
A PIP should define how the employee has poorly performed, provide objectives and steps to improve their performance. Moreover, it sets out the outcomes of failure to improve.
Why is a performance improvement plan so important?
It protects the employer against legal charges when he acts against an employee who is underperforming. It is also a useful tool for improving employee performance.
Can I resign in PIP?
Yes. You can resign before, during, or after a PIP.
How long should a performance improvement plan last?
Typically, PIP lasts 30, 60, or 90 days varying on the expected time an employee would take to reach specific goals.
Finally, it was all about the "Performance Improvement Plan". Please do share your feedback in the comments section and keep visiting us to learn more about Project Management.