Are you new at Project Management or don't want to waste the project team time on making basic project management template excel spreadsheets from scratch? Then, you are in the right place.
Although there are hundreds of tools available for project management. But the worldly acceptance of excel spreadsheets due to flexibility and simplicity makes it the best alternative of expensive management systems.
In this article, we will introduce a project management template excel spreadsheets. Also, Significance of using project management templates in excel and major categories of project management templates for excel.
Related Article: Introduction to Project Management Templates
Project management is a multi-dimensional discipline that requires the talent of a variety of disciplines for successful management. However, project managers are field specialists who have spent their life's in managing projects of different nature.
So, it isn't possible for project managers to put all of their attention and time on making plans, reports and different tracking sheets for different knowledge areas of project management from scratch.
Therefore, it is always preferred to utilize some free downloadable project management templates in excel with a lot of pre-defined settings and tools that fit best to the specific nature of the project.
Additionally, these templates excel spreadsheets are equally efficient and effective for all the phases of project management from definition to closure.
Furthermore, on this website, we will provide you with the best templates to manage all the project management activities with minimum effort and best results.
Project Management Phases
There are 5 phases of project management as follows;
Definition / Initiation
Planning
Execution or Implementation
Monitoring and Control
Closure
Also, check out our complete guide on the Basics of Project Management for Beginners and Professionals.
As each project management phase has it's important and given much attention by project managers. However, the project planning and execution phases stand out as the challenging phases. Similarly, the project definition phase deals with the development of project charter and identification of stakeholders.
Related Article: 45+ Free Project Management Spreadsheet Templates for Excel (2020)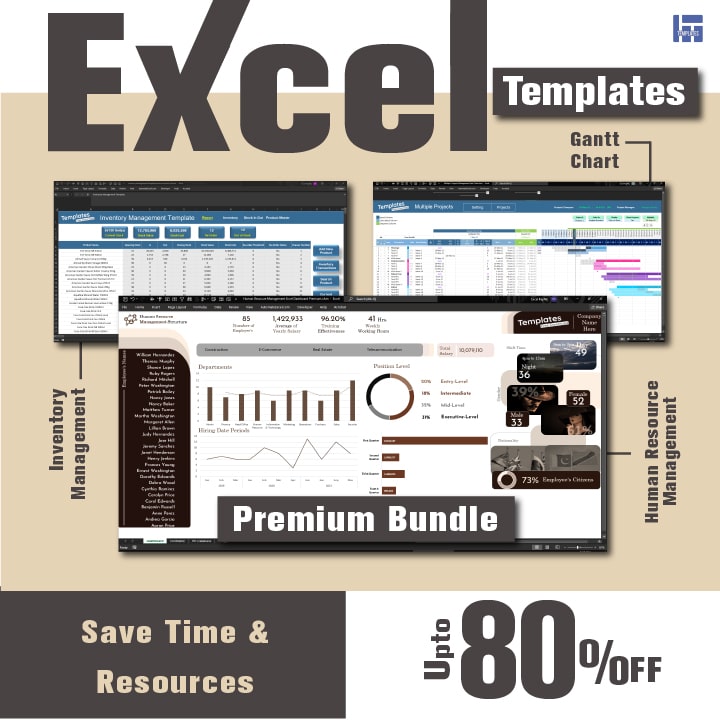 Project Initiation and Planning
The most important and vital phase of project management is planning. Therefore, a well-planned project has bright chances of getting successful. Basically, the planning phase consists of 24 core processes from all the knowledge areas of project management.
However, the vital ones are the development of project management plan, definition, and management of project scope and WBS, planning, and development of project schedule.
Also, it involves planning and management of project cost, quality, performance, resources, risks, communication, procurement, and stakeholders.
So, any ignorance in the planning phase of project management will definitely be going to hurt the project performance and deliverables actuality over the project lifecycle.
Therefore, the project managers spend a lot of time planning every single dimension of the project. So, before heading towards the execution phase of the project. It must make sure that everything has been covered.
Although, it gives confidence to the project teams and eliminates the maximum probably of bad surprises over the project lifecycle.
The project execution phase is mostly focused on the track developed during the project planning phase. Whereas, some of the processes involved in the execution stage of project management are management of project work and knowledge, management of quality, stakeholders and communication, development and management of teams, and implementation of risk responses.
Furthermore, the monitoring and controlling phase of project management is in action parallel to the execution phase. Also, it involves a lot of processes in different knowledge areas of project management.
However, the core processes of monitoring and controlling phase are monitoring and controlling project work, change control, scope, schedule, costs, quality, resources, communications, risks, procurement, and stakeholder engagement.
Whereas, the closing phase deals with the project integration management area of project management for assistance in the successful closure of the project.
Related Article: 12+ Free Project Tracking Templates for Excel | Project Trackers
Importance of Project Management Template Excel Spreadsheets
Project management plays an important role in managing the project to achieve the objectives and goals of the project set by an organization in an efficient and effective manner.
So, a good project management approach helps the employees to have a clear understanding of their duties and responsibilities. Because they are well aware of the activities schedule along with deliverables and plan the work schedules accordingly.
Thus, keeping in view the importance of project management. It is crucial for the project managers to put their efforts directly into project activities. Instead of wasting their valuable time in making formats and templates for documentation purposes.
Further, do you what to manage and track your project like professionals? So, check out the guide on How Project Managers Define Project KPIs and Best Project Management Dashboards for Project Tracking.
Here, project management Excel templates play an important role by providing preset excel sheets for almost all the project needs.
Thus, project scheduling, planning, tracking, budgeting, and risk management templates are the most common project management excel templates.
However, project integration, scope, time, cost, quality, resource, risk, and communication management template in excel are the vital excel spreadsheets of a project.
There are a few obvious benefits linked with the usage of project management excel templates;
Related Article: Recruitment Tracker Excel Template
It saves valuable time for project managers and project teams.
It requires only beginners' skills to use and customize the templates as per the nature of the project.
Easy for the project managers to choose the best suitable excel sheet for their project.
Easily available for almost all the major functions and activities of the project management defined by PMBOK.
Highly recommended by experienced and professional project managers.
The free and cheap alternative to expensive project management software tools.
Areas of Application for Project Management Template Excel Spreadsheets
There are hundreds and thousands of project management templates required to manage a large-scale project. So, it is nearly impossible for the project managers to make each document from scratch.
Thus, here comes the need for project management template excel spreadsheets to resolve the problem.
Further, the application of project management Excel templates is valued in all the knowledge areas and processes defined by P.M.I in PMBOK 6th Edition.
Just for the reference, there are 10 knowledge areas, 5 process groups, and 49 processes in the PMBOK 6th edition.
Related Article: Project Supply Chain Management (SCM)
PMBOK 6th: Application Areas of Project Management Templates
The core areas of application for project management templates in excel are;
Project Integration Management

Develop project charter
Develop a project management plan
Manage project work and knowledge
Monitoring and controlling of Project work and perform integrated change control.
Closing of Project or phase

Project Scope Management

Plan scope management, collect requirements, define the scope and create WBS.
Validate and control the scope

Project Schedule Management

Plan schedule management, define activities, sequence activities, estimate activity durations and develop a schedule.
Control schedule

Project Cost Management

Plan cost management, estimate costs and determine the budget
Control costs

Project Quality Management

Plan quality management
Manage quality
Control quality

Project Resource Management

Plan resource management and estimate activity resources
Acquired resources, develop team and manage team
Control resources

Project Communications Management

Plan communications management
Manage communications
Monitor communications

Project Risk Management

Plan risk management, identify risks, perform qualitative and quantitative risk analysis and plan risk responses
Implement risk responses
Monitor risks

Project Procurement Management

Plan procurement management
Conduct procurements
Control procurements

Project Stakeholder Management

Identify stakeholders
Plan stakeholder engagement
Manage Stakeholder engagement
Monitor stakeholder engagement
Types of Project Management Template Excel Spreadsheets
Project management templates for excel are used to serve all the major disciplines of project management techniques and tools. Therefore, there are several types of project management templates in excel. However, three major categories of project management templates are;
Related Article: Steps on How to Make Gantt Chart in Excel | Free Template
Sample Templates to Free Download:
The following templates are just a few samples from the whole list. All remaining templates are available in the categorize manner in the next sections.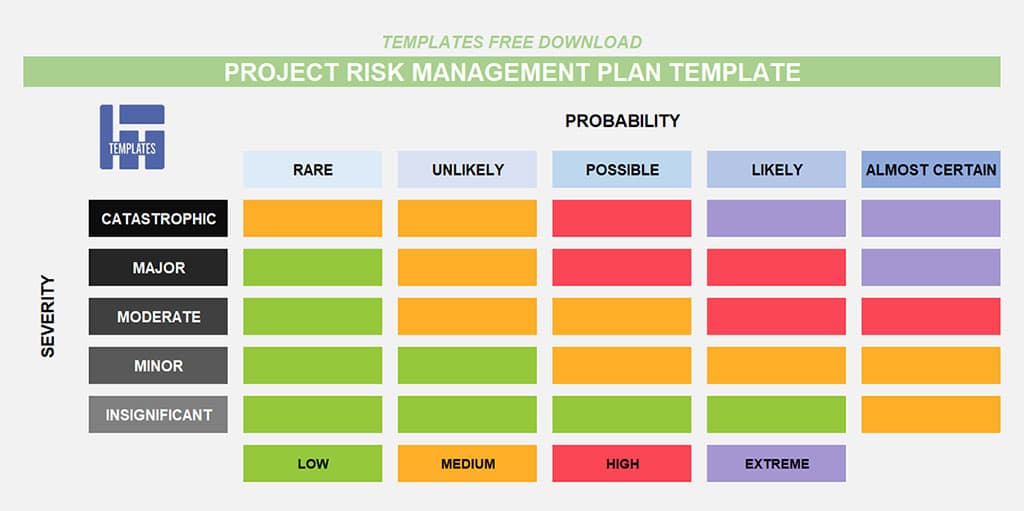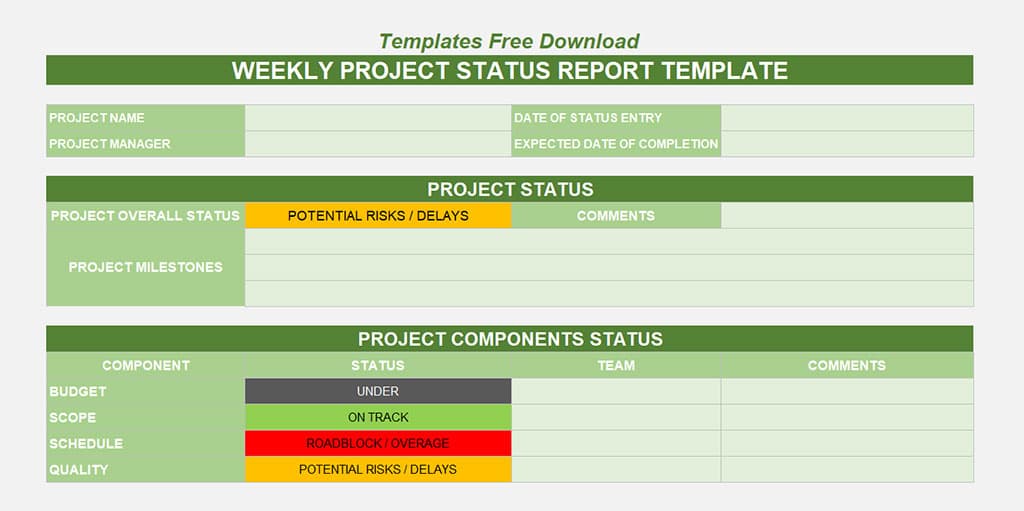 Related Article: A Complete Guide to Critical Path in Project management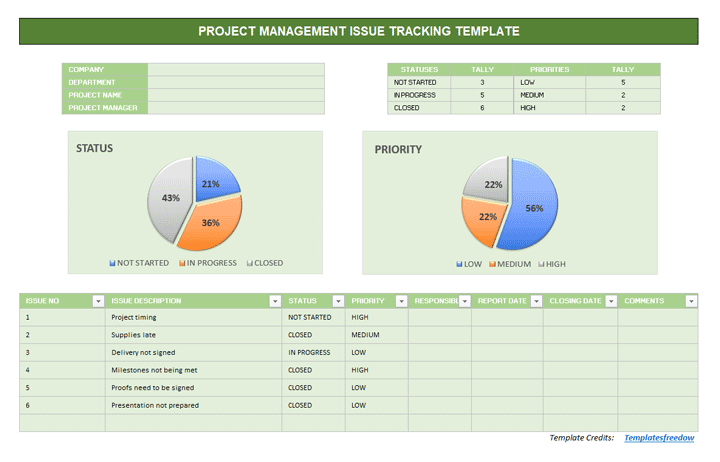 Project Planning Templates in Excel
The project planning templates for excel are helpful in all the knowledge areas and processes under the planning and even execution process groups of project management.
Also, project managers utilize these templates in the planning phase and modified in the execution stage for the tracing purpose.
Furthermore, these planning sheets are critical before the implementation of the project. Whereas, the main purpose of using a planning template excel spreadsheets' is to ensure all aspects.
Such as project managers have pre-define, evaluate and analyze each aspect of the project over the project lifecycle to minimize the risks and ultimately the damage to the project deliverables.
Most important project planning free templates are;
Project Scheduling template Excel spreadsheets that include planning sheets of timeline, tasks, milestones, and actions.
Risk management templates to critically evaluate the impact and likelihood of risks along with mitigation plans and contingency strategies.
Project managers use a project resource planning template for the management of project resources. Also, most importantly the human resource, materials, and equipment by utilization of resource availability, vacation, and allocation planning templates.
Project managers use project budget planning template excel spreadsheets to forecast the activities costs, project team costs along with risk profit analysis.
Project managers use project Stakeholders' management template excel spreadsheets. But, for keeping project stakeholders intact with the project, getting funds and keeping their interest alive. Also, the most common templates for this knowledge area are stakeholder mapping, engagement and communication plans.
Project planning template Excel spreadsheets are not just limited to the above-described ones. Because the application of the planning phase covers all processes of project management.
Therefore, these templates play an important role in each knowledge area and process. However, the project planning sheets discussed in the above section are the most important and commonly used ones.
Project Evaluation and Reporting Templates in Excel
Finally, after the project planning phase, project managers' most important duty is to ensure the successful implementation of the project plan and monitoring its practicality. Thus, both the project tracking templates and project evaluation and reporting templates serve the same purpose for the subject project plan.
Also, project evaluation template Excel spreadsheets always work parallel to tracking templates as these sheets utilize tracker sheet results for analysis.
So, the most common analyses performed during the project implementation phase are related to managing human resources, quality, risk, time, finances and records.
Related Article: Free Project Progress Report Template [XLS]
Similarly, the project managers use reporting template excel spreadsheets for project management to report the information and results of evaluation templates.
However, other uses of these templates are for keeping stakeholders alive, to celebrate the achievements, to discuss change policy, and project progress.
Let's shortly describe the common project evaluation and reporting templates;
Finance management templates include earned value analysis, variance analysis, and project feasibility report.
Project outline report and progress report templates
Project Schedule analysis templates include a timeline, milestone trend, critical path, and PERT analysis.
Risk management evaluation templates set contains tools like qualitative and quantitative risk analysis and Fishbone Diagram analysis.
Although, there are tons of project analyses required to be performed at different points of the project lifecycle.
However, project managers prefer to perform the analysis and reports covered in the above paragraph to evaluate the performance of any simple project.
Related Article: Steps on How to Make a Timeline in PowerPoint & Free Template
Project Tracking Templates in Excel
The purpose of the project tracking template for excel can be well understood from its name. Although, these templates not only serve the purpose of tracking any process of project management.
However, the uses and benefits of project tracking templates are way more than just tracking.
Typically, project managers consider project tracking template excel spreadsheets as the extraction of project planning templates.
In fact, these are the checklist form of planning templates with some extended features to perform different functionalities in the project implementation phase.
Project managers use most project tracking template in excel to monitor and track the completion of the process of project management.
However, these sheets are also equally helpful in comparison to the planned output and the actual output of any process parameter.
Furthermore, the project tracking template for excel help in the effective management of project resources, budget, schedule, stakeholders, risks, and communication channels.
Some of the most essential project tracking templates or project trackers are;
Project managers use the project Dashboard Template as a project tracker template. Although, it is used for tracking and analyzing a lot of parameters in project management. Its most common outputs are for resources and risk management.
Project Schedule tracking templates are helpful for ensuring the timely and successful implementation of project timeline and achievement of project milestones.
Project Risk tracking templates are the most important ones and essential part of the project dashboard template. As it provides information about the issue management system of the project.
Some other projects tracking templates are from the domains of project quality, budget, and communication.
There are tons of other project trackers available as built-in functionality for project management systems. However, it is preferred to use simple excel spreadsheet-based tracking templates for small projects.
Top 30+ Project Management Template Excel Spreadsheets (2020)
Although the project management template Excel spreadsheets are used for each knowledge area of project management defined in PMBOK 6th Edition.
However, there are few project planning, scheduling, tracking, and budgeting templates in excel considered must use;
These are the links to the individual Posts containing many Templates of each category to Free Download. So, just click on the required template link to proceed.
Project To-Do List
Project Plan Template in Excel
PERT Chart Template
Project Planning Excel Template
Project Action Plan Template
Project Planner Template
Work Planner Template in Excel
Milestone Trend Analysis Template
Project Budgeting Template
Earned Value Management Template
Project Construction Schedule Template
Stakeholders Management Template
Cost-Benefit Analysis Template
Project Cost Management Template
Project Budget Tracking Template
Task Management Templates in Excel
Project Resource Planner Spreadsheet
Employee Vacation Planner Spreadsheet
Contingency Plan Management Template
The Finest Excel-Based Project Management Templates and Spreadsheets
Here are some basic Excel templates for project management that you can use today. Upgrade your rudimentary Excel processes for project management by utilizing professionally designed templates.
Gantt Chart Template
A Gantt chart is a graphical representation of a project's schedule, making it easy to see how tasks and their dependencies are distributed across the project's duration. That's why this project scheduler is so helpful.
Although Gantt charts can be unnecessarily complicated in Excel when more sophisticated scheduling elements are required, such as job dependencies and resource allocation, they are an essential tool for any project manager.
Download this free Gantt chart Excel template to build a project schedule from your task lists quickly. Just plug in your tasks and due dates into the provided Excel spreadsheet to see how long your project will take.
Project Status Report Template
An update on the project's progress is required. Without accurate information, project managers are flying blind. There is no way to know if you are on track or if any necessary resources are being withheld.
Using this free Excel project status report template, you can better communicate project progress to stakeholders during presentations and within your team.
The report intervals are flexible and up to your discretion. Many distractions during a project can be avoided by using a project status report template to streamline the process.
Work Breakdown Structure Template
Deliverables are the results of completing tasks inside a project. A work breakdown structure (WBS) maps out the deliverables, activities, and subtasks that must be met to complete the project.
This work breakdown structure (WBS) template organizes the process of breaking down a massive project into smaller and smaller jobs in a hierarchical graphic that reveals the full breadth of the project's labour.
This is a crucial part of project planning but also of cost estimation and timetable creation. Plus, as an Excel worksheet, the WBS template can be imported into the software to kick off a project, delegate responsibilities, and keep tabs on development as work progresses.
Project Action Plan Template
Initiating a project means you're committed to seeing gan through to its conclusion. Nonetheless, getting there calls for a plan and the actions to carry that plan through. That's right; we need a project action plan!
When completing a project, the action plan serves as a template for organizing your ideas into a coherent strategy. Fill in the spaces on our free action plan template to ensure that you've thought of everything and given your project a good head start. It's a terrific add-on to a more comprehensive strategy or charter for your project.
Project To-Do List and Tracker Template
To keep the project on track, monitoring its progress is essential. Which also necessitates monitoring on a task-by-task basis.
To better understand what is working and what needs more attention, this project tracker & task list template includes columns for both the expected and actual project duration.
Once your project and task tracking template has been integrated into a project management software system, you can generate Gantt charts to obtain a clear picture of the project timeline and have that data supplied to your dashboard so you can keep track of progress in real-time.
Project Risk Template
A project manager must always consider the possibility of failure. The ability to foresee potential problems and come up with solutions to bring the project back on track is essential. Here's a free Excel template to help you keep tabs on potential dangers.
First, it lets you document everything that could go wrong during the project. As a further step, you can specify how it will affect the project. After assessing the potential danger, you might give watchful responsibility for its management to a specific person.
You now have a way to deal with the problem immediately, plus a document that can be shared with others so that the same problem doesn't sneak up on your project in the future.
Issue Tracker Template
Confrontations arise whenever there is a current event impacting your project. When this occurs, how do you react? Using this free issue tracker template, you can keep track of the problems you're facing and the steps you're taking to solve them.
Naturally, the first step is to recognize these problems as they emerge. That data is all contained in this one handy PDF. The issue tracking template is helpful since it ensures that the entire process, from identifying the issue to fixing it, is recorded.
Project Budgeting Template
There is no point in having a well-thought-out plan for a project if there isn't the money to make it a reality. For this reason, creating a budget, as dull as it may seem, is a crucial step in ensuring the project's timely and successful completion.
Thanks to its colour coding, this free Excel budget template for projects makes it easy to recognize whether you're over budget. Beyond its importance at the outset of a project, this document also serves as a mechanism for monitoring expenditures as the work progresses.
All your expenses, from the straightforward (and easily tallied) kinds like labour and materials to the more fluid (and potentially cumulative) types, can be accounted for in this single, comprehensive form. This free budget template can help you get closer to the figures you need for your budget.
Project Timeline Template
A simple timesheet can effectively keep team members on track with their responsibilities and provide the information you need to know where they are in their assignments.
Managing timesheets is where online project management software shows its worth. Reports can be filtered, modified, and exported to PDF, Excel, and CSV formats for easy distribution. Plus, the system allows your staff to submit timesheets based on completed tasks, and you'll be notified through email whenever this occurs.
Project Plan Template in Excel
After your project has been green-lit, a project plan template will provide you with the framework you need to get started. It allows you to outline the project's objectives, activities, tasks, and resources in one place. Planning your project's activities, tasks, and durations throughout a timeframe is the first step. Task dependencies can also be noted here.
Your project's unique requirements will be considered when developing the plan. This is why the appendix section is included in the project management template. Include your business case, feasibility study, and project charter here, and your scope, cost, and schedule management plan or work breakdown structure (WBS). The more time and effort you put into developing a comprehensive plan for your project, the better off you and your team will be when it finally gets put into action.
Project Resource Planner Spreadsheet
Valuable anything to completing a task is considered a resource. Creating a manageable strategy for your team and their resources begins with your Excel resource plan template. Your project's budget and resource requirements can be calculated with its help. Use this Excel template for projects to keep track of expenses alongside your plan and budget.
Cost-Benefit Analysis Template
Use the Excel cost-benefit analysis template to see if your project is financially viable. Discover whether the project can be completed in the allotted time and budget. With this Microsoft Excel form, you may weigh the potential costs of a project against any potential returns. Therefore, you can determine if the project is economically feasible.
Whether you're working on a personal or professional endeavour, our cost-benefit analysis form may be adapted to match your needs. It can be used repeatedly to record data on a project, its direct, indirect, and indirect costs, as well as its direct and indirect advantages (direct benefits, indirect benefits, intangible benefits and competitive benefits).
The total cost and benefits can be compared by adding the information provided in the three cost parts and the four benefit sections of the template. Before committing to a project, conducting this kind of analysis is essential.
Work Schedule Template in Excel
To better manage your staff, use this Excel-based employee schedule template. It can be used to coordinate the weekly activities of your team and the flow of the project. Keep track of the days and times your crew is available and the rates and hours paid for their efforts.
Employees can work the traditional nine-to-five schedule or a more flexible schedule that incorporates both the morning and afternoon. You can track down information about your team members and their work schedule with this Excel template for project management.
Moreover, you can include details like who they are, what they're working on, and their responsibilities. Space is provided for noting each day that they will be on the clock.
This Excel template has much potential for data collection, but it is a one-way street: the data cannot be changed. It requires manual maintenance in the event of an update. Time spent on this activity can be removed from the project and team management.
Summary
In Short, The project management template Excel spreadsheets are widely used and recommended by the project management professionals.
There are a lot of benefits of using project management templates in excel. As there are hundreds of templates involve in the process. Therefore, it is not possible for the project managers to make each by themselves.
Also, project management templates in excel are easily available and categorized for major phases of the project. Such as project planning, tracking, monitoring, and reporting phases.
Top 20+ project management template excel spreadsheets of the year 2020 are related to scheduling, tracking, planning, risk management, and budgeting.
It was all about the "30+ Free Project Management Template Excel Spreadsheets (2020)". Please do share your feedback in the comment section and SUBSCRIBE us to learn more about Project Management.
For more details and queries, feel free to Contact Us at any time. We value your suggestions and Looking forward to hearing from you.
Graphic Resources Credit: Designed by Freepik