In project management, keeping track of who does what on your project becomes a challenge. Here comes the Roles and Responsibilities Template (RACI chart). This article will cover everything you need to know about producing a RACI chart for your project.
Related Article: Resource Capacity Planner Excel
Project Roles and Responsibilities Chart
A RACI chart is a simple project management tool used to define roles and responsibilities for handling each project's task. This chart enlists each activity along with the concerned person who is either Responsible, Accountable, Consulted, or informed for each task.
Moreover, this roles and responsibility matrix template in excel is beneficial to ensure alignment and clarity across the project team. RACI template word is:
Easy to use, fill the blanks.
Flexible, add or delete content.
You can instantly download the Free RACI Template in Excel.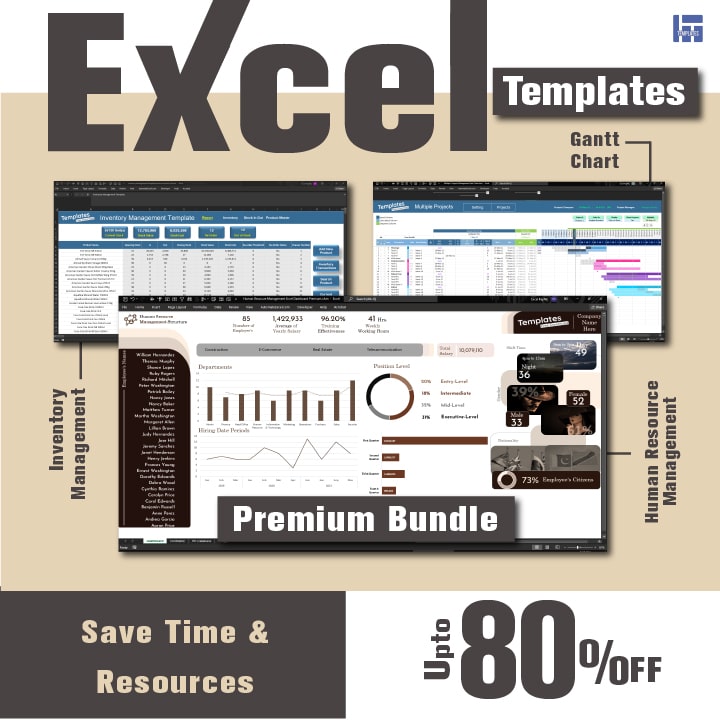 Features of Roles and Responsibilities Chart
The Roles and Responsibility Chart helps document all the responsibilities in a project. So, ere are some of the features of our RACI Chart:
This RACI Chart mainly focuses on the specific job position. Also, its main purpose is to provide all the primary duties of a work and abilities which are required to complete the task.
Further, the responsibilities which each member is assigned are enlisted in the roles and responsibility template excel. Also, there is a separate sheet for each job position.
Thus, this RACI spreadsheet's primary goal is to keep everyone aware of his roles and responsibilities. This sheet also keeps them directed towards their goal.
Related Article: Recruitment Tracker Excel Template
RACI Chart Template
The RACI chart template's primary purpose is to make a matrix in which we can assign responsibilities among the team or employees.
In other words, this documentation template sets and defines roles and responsibilities, milestone completion, tasks, and decision-making authority among employees who are doing this project.
Furthermore, we announce concerned employees and authorities engaged in completing the project and their levels and limits.
So, by applying this RACI Matrix Template, we can easily monitor, control, and evaluate who is working on what level and at what level he is responsible for any act.
As explained before, RACI defines the four levels of responsibilities, such as Responsible, Accountable, Consulted, and Informed.
Importance of RACI Chart Template
RACI Chart Template in Excel clarifies who does what in a project. Let's have some points about why we use organization roles and responsibility matrix excel template:
It is a useful way of communicating who does what in a project. It helps project participants understand what they have committed to do.
Also, using the free roles and responsibilities template in excel is good for team harmony.
Roles and responsibilities: The roles and responsibilities document perfectly map the project roles and responsibilities over a task to avoid repetitive work.
Further, this template motivates project team members to come to the front and take responsibility.
Moreover, it gives transparency to the process of responsibility assignment.
RACI Chart template excel is helpful in decision making as well. It reduces the conflict about task ownership.
It allows the project manager to equally distribute the workload and
decrease the turnover of the project.
Related Article: Project Management KPI Template XLS (KPIs)
Components of a RACI Chart Spreadsheet
The RACI Chart tells who does what in a project. It makes it easier to differentiate roles, responsibilities, accountable people. So, it enables a proper mechanism to ensure that employees are informed enough to know how things are going for a project.
This Roles and Responsibility Chart has the following key components:
Responsible: These are the people who have responsibility for specific tasks or deliverables. You can assign every to at least one member.
Accountable: A project manager or a person who organizes tasks between his team and review the job.
Consulted: The people you will consult about the task will seek their opinion before an action or task.
Informed: These are the stakeholders who get one-way communication to keep them updated about the project's progress after a decision or action.
Knowing what people will do, and their impact is an integral part of managing a project.
Format of Itil RACI Matrix template
RACI matrix templates are prepared by using different project management tools. There is some other template, e.g., ITIL Raci Matrix and action plan template useful for business.
ITIL Raci Matrix is a process to get the desired outcome of any project by knowing who is accountable when a service goes wrong or changing a process. Let us have a look at the ITIL Raci Matrix.
Human Resources: In this column, the input of the different team members' efforts is determined.
Project Manager: This section goes to the target set and assigned persons by the project manager accountable for specific actions.
Marketing Manager: This list shows whether he is Responsible, Accountable, Consulted, or Informed.
Stakeholders: They are the project members informed of the project's decisions and the current situation.
Download RACI ITIL free template here.
Related Article: Simple Free Change Request Form Templates
How To Create A RACI Chart Template
Our free Roles and responsibilities template in word is straightforward to create by using an excel spreadsheet. Following are the step to create a useful RACI Chart:
First of all, Create a table, and in the first column, enlist all the activities, deliverables, and milestones of the project.
Secondly, mention all team members' names and responsibilities across the first row in the Roles and Responsibilities Template.
Write as: R (for Responsible), A (for Accountable), C (for Consulted), and I (for Informed).
Finally, allocate a responsibility value for each activity against the roles. Our RACI chart template is simple and easy to customize. Assign the R, A, C, and I value by selecting from a drop-down box. Moreover, you can enter combined roles such as A/R.
You can edit the table of descriptions and abbreviations to use this template for other variants.
How This Template Will Work
This RACI Matrix ensures that all the stakeholders are on the same page and working in harmony. Instead of using other methods, download our free RACI Matrix Template excel, and organize your team to working better together.
Finally, the template you are going to download is free. You can get different RACI Excel templates from here, and then you can customize them according to your requirements.
In conclusion, the RACI matrix excel template plainly defines the responsibility levels for the project's task. Moreover, it's a simple approach towards managing human resources in an intricate project using a relatively familiar spreadsheet- based tool.
Top 5 Frequently Asked Questions about Roles and Responsibilities Template
There are many questions in the FAQ list of Roles and Responsibilities Template Excel. However, the top 5 and the basic ones are:
What is the RACI matrix template?
A RACI matrix is a chart that defines the roles and responsibilities template of team members of a project.
What is the full form of RACI?
RACI is an acronym that stands for responsible, accountable, consulted, and informed.
How detailed should a RACI be?
RACI would not be too detailed as it is a management tool for role clarification and decision making. You should only schedule high-level activities there.
What is a RACI matrix stands for?
RACI stands for: Responsible, Accountable, Consulted, and Informed.
Can one person be accountable and responsible in a RACI?
Yes, in a project, the same person can be Accountable and Responsible.
Finally, it was all about the "Roles and Responsibilities Template Excel". So, please do share your feedback in the comments section and keep visiting us to learn more about Project Management.
Graphic Resources Credit: Designed by Freepik