The Simple Risk Log template is also known as the Risk Register template help you manage your project risks. Also, this risk log template continuously identifies and monitors risk in any project critical for the success of the project.
Risk management and stakeholder management are the two most important aspects of project management. So, the risk log document tracks all project risks and review them to keep you updated.
Moreover, project risk is an uncertain condition that if it happens impacts the project's objectives positively or negatively. Going further, project Risk Management is all about productivity in a project.
As it allows the project team to work on value-added activities instead of firefighting repairs that could have been avoided. Finally, the project risk register template is all about identifying risks and continuously monitoring them in the risk log template.
Related Article: 5+ Free Project Risk Management Plan Template Excel [XLS]
Risk Register Definition | How to use a Risk Register with FREE Template
Risk Register, also known as Risk Log, is the most important document in project management. As it is a document that is used for documenting risks, results of risk analysis (effects, impact, probability), and Risk Response Plans.
Also, you can use the Project Risk Register to monitor and control risk throughout the project life cycle. Risk is inevitable in projects. When it comes, understanding it and knowing how to minimize its impacts are essential for a project's success.
The Risk Log Template or Risk Register is essential to the management of risk. As risks in a project are identified they should be logged on the Risk Register. And you should take action to respond to the risk.
Risk Register Template Excel documents the responses on the risk register and the project managers review it to monitor progress. Ideally, you should review a risk register in a project team meeting at the end of the project lifecycle.
Also, risk management is a constant and ongoing process. As the project team raises risk with the risk manager. And the project or Risk manager then logs the risk and identifies actions that are required to mitigate the risk.
So, if you want to manage risk in your project, download Risk Register in excel .xls and Word.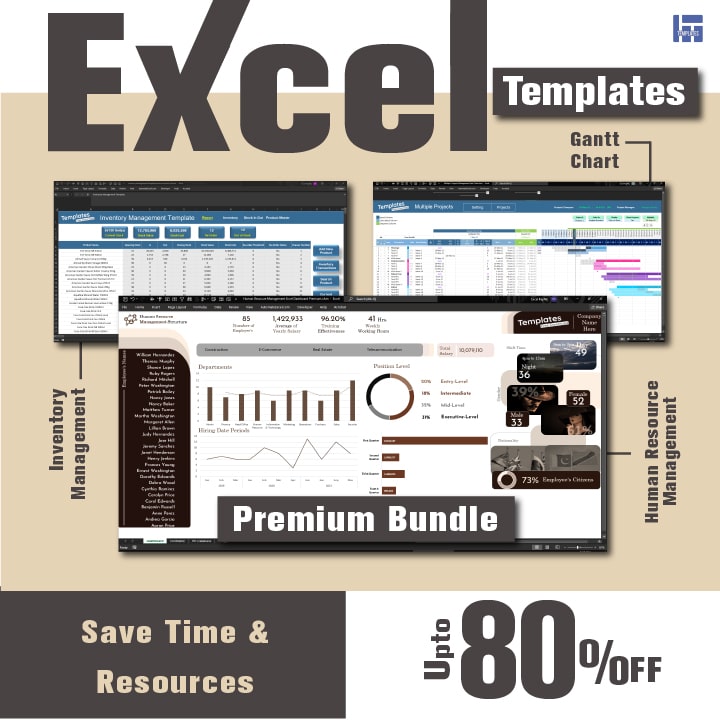 PMBOK Definition of Risk Register
PMBOK defines Risk Register as:
"Risk Register (or Risk Log) is a document that contains all the results of risk analysis and where risk response plans are recorded." The result of other risk management methods also ends up in Risk Register.
A risk manager fills up a project risk register during the planning phase. Moreover, to achieve a good result, share the register and the lessons about risks as a part of the project archive.
Related Article: Best Project Management Issue Tracking Templates
The Risk Register contents
Here are risk register example and the component of Risk Register template:
Risk ID: it is a unique identifier for the risk. Four digits should be sufficient in most cases.
Date Raised: it is the date of the identification of risk.
Risk Title: It is a one-sentence description of the Risk. Also, you may write it in a way that describes the nature and severity of a risk.
Check out the following risk register example:
"Lara may leave the company which impacts the deadline."
"Stephen most probably will leave the organization which will impact the deadline."
Risk Description (Optional): You may write a risk description for two reasons:
You have a complicated risk that will impact multiple areas.
There is a necessity to share the Risk register with other stakeholders.
Likelihood: it is the probability to risk occurrence. It can be high/medium/ low. Also, you can use a 1-10 ranking grade.
Impact: it comes from quantitative risk analysis. And it represents the severity of the Effect if the risk occurs.
Severity: It is the likelihood of impact. And you can get it by multiplying Risk Rank by the impact.
Risk Rank = Probability *Impact
Risk Owner: it is just the name of a person who will be responsible for risk. Also, this person will monitor, manage, and report the risk.
Response Plan/ Mitigating Action: It is a description of the action plans that can be taken to mitigate the risk. Otherwise, you can state here that you are going to accept the risk.
Contingent Action: it is the description of what will you do if the risk occurs. Usually, these are the actions to reduce the impact on the project.
Progress on Action: it is a statement of regular updates on the progress of the alleviating actions.
Status: it represents the status of the risk. For example, waiting, Open, closed, in progress, etc.
Related Article: Best Free Multiple Project Tracking Templates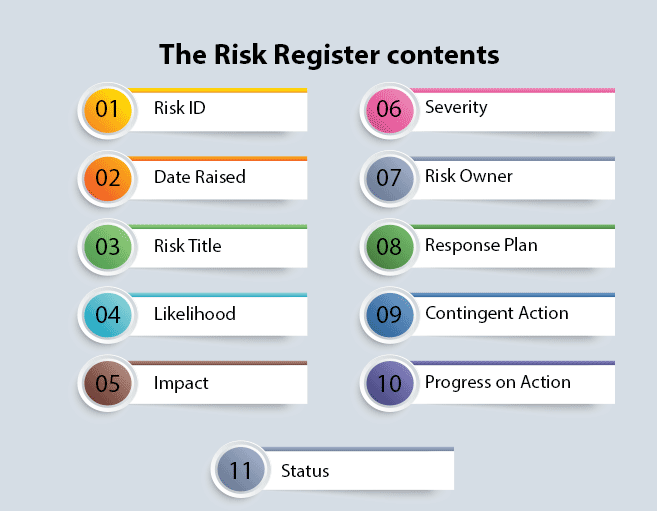 Risk Register Template
Here are our risk register templates and risk register examples for business. If you want to manage your project risk, this is just a starting point for you. We suggest you create a custom risk register template yourself.
Creating a register log template is quite simple in content and structure. Nevertheless, it is one of the things that require proper attention and maintenance.
This construction risk register excel provides you with the information required to make worthwhile decisions on the response plan. Also, by simple risk register example, you will be able to focus on the most severe risk. And spend your risk management budget accurately.
So, are you ready to get a construction risk register to excel?
Steps to Use Risk Register
Here are the steps you should use the register:
Keep it Pre-sales Phase
A good project manager always keeps himself in risk identification mode. Therefore, you should start filling the register as early as allocated to the project.
Keep it in a Draft State
Logging your concerns, thoughts, and high-level risk is Ok. As you can refine them later. So if you get more information from the experts, make changes to your entries in the log. Then review your register with stakeholders to get their feedback.
Don't mix analysis and Identification
Firstly, write down the description of a task. Then analyze it later. Do not try to fill all the columns at once. As you can write down the title during calls. Later, you will have time to ass the details. Additionally, do this task with your team members.
Describe Risks in Detail
As you are not the only user of the Risk register, do not pull all the information. Be selective and include your team's feedback as well.
Do Teamwork
As you know, each risk has a responsible person, so delegate risk to your team or stakeholders. Remember, you do not have to know every knowledge risk. As some experts can better perform than you.
Share it with Project Team
Educate your team on your risk management approach. Therefore, do not assume that they know your thoughts. Share your thoughts and plans with your team and engage them in risk management activities.
Polish Risk register Before settling Project Management Plan
Before finalizing the risk register, re-evaluate it. As at some point in planning, you have the budget, scope baseline, and schedule drafts. And you will have quality standards, drafts of the procurement document, HR plans, etc. therefore, put them together in your first project management plan draft. After that, do a bulk of risk analysis and outline resources.
Review plan Regularly
Always review your Risk Register when:
You create periodic calendar events to review sessions daily.
Revisit your risk list when a change request comes.
Check it when a risk occurs.
Also, check it when Risk Response Plan is inefficient.
Keep it up to date
As risk management is a continuous effort, keep the risk register up to date. Moreover, risk changes their severity, impact, and priority over time. So, you need to monoi=tor risks during the entire project.
Make it Neat
Keep your risk register neat and presentable as they communicate future risks with stakeholders. Moreover, they secure their engagements ad manage their expectations as well.
Related Article: Free Building & Facility Maintenance Checklist Template Excel
Top 5 Frequently Asked Questions about Risk Register
There are many questions in the FAQ list of Risk Register Example and All You Need to Know About It. However, the top 5 and the basic ones are:
When do you perform Risk Identification?
New risks occur all the time. Moreover, identified risks change their Impact and Likelihood with changes on a project. Therefore, you must be on a belvedere for the risks all the time.
Who should be involved in Risk Management activities?
A project manager needs to collect as much effort and feedback as required for Risk Management. Each member and stakeholder may have an exceptional point of view on the challenges and project risks. By counting all possible stakeholders, you identify more risks.
After you performed Qualitative Risk Analysis what do you need to create?
After a Qualitative risk analysis, you should create a prioritized list of risks, a list of urgent risks, a list of risks for additional analysis, an investigation of the watch list, and a list of risks.
A process that involves prioritizing risks for further action or analysis by assessing the impact and the probability of occurrence is called?
It is called Qualitative Risk Analysis. During the Qualitative Risk Analysis, you measure the Impact and Probability of a risk using simple ratings like Low, Medium, High.
A document you use to capture all known risks is called?
Project Management Institute calls this document Risk Register.
Finally, it was all about the "Risk Register Example and All You Need to Know About It". Please do share your feedback in the comments section and keep visiting us to learn more about Project Management.