When companies begin a project, the crucial thing is to organize the whole project. That is why project managers use a work breakdown structure template to break down the project's most extensive phases into smaller tasks.
So that everyone involved can carry it out without a hitch, to put it merely. WBS is an important project deliverable useful to schedule and systemize the team's tasks into easily manageable sections.
But creating a WBS that brings value to your project is a lot harder than you think. With our free work breakdown structure template, you will be in total control of every step of your project.
Related Article: Free Easy Step by Step Guide on How to Make a Gantt Chart in Excel
What is the Work Breakdown Structure (WBS)?
Lets' explore what is WBS in project management. The work breakdown structure (WBS) is a chart that provides a structural view of the project. It describes and orders a project's deliverables and components.
Moreover, it is used to provide clarity on what the project needs to deliver. The most common method of defining a WBS is the outlining method. In this method, tasks are defined using a hierarchical structure.
This hierarchy usually is two or four-level deep. It clarifies what the deliverables of the project are. And shows how these deliverables interact with one another.
The WBS template available here is a simple worksheet that automates WBS numbering for your project. You need to pick the level from a drop-down in Excel.
If you are a project manager, you know that within a project, sometimes things go wrong for a magnitude of different reasons. But most of the time, a project will fail due to a non-existent or poorly documented WBS.
A poorly constructed work breakdown structure can cause diverse project outcomes. These include unclear work assignments, repeated project re-plans, and extensions, frequently changing scope, scope creep or unmanageable, budget overrun, missed deadlines, etc.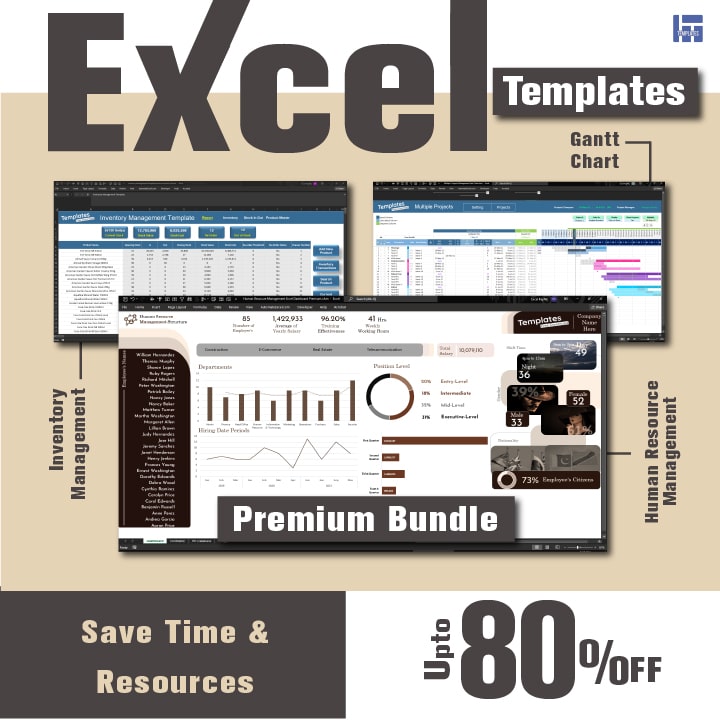 Important WBS Definitions
Before heading forward, let us explore a few work breakdown schedule
definitions that will be used in this article:
Work Breakdown Structure: A deliverable-oriented set of project components. The goal of the WBS is to arrange and define the project scope.
Progressive Elaboration: it is a method of continuing to deliver additional detail into the planning process as it becomes available.
Critical path: The sequence of stages that defines the least time needed for operation.
Deliverables: A definite or indefinite good or service produced that is an outcome of a project.
Project Management Plan: It covers how the project will be executed, examined, and controlled.
Related Article: Free Project Schedule Template
Why is Work Breakdown Structure Important?
The work breakdown structure sample is valuable for managers in project
management. It helps them project team in various aspects. Here are a few
benefits of the work breakdown structure template.
It gives a visual and graphical representation of all the project sections and defines what the project is all about.
It gives an estimation of the cost of the project.
Also, it gives clarity to all team members about what outcomes are required.
It breaks project work into easily manageable tasks.
It gives a detailed view of the project, which gives teams the information
they need. In this way, it clarifies the work required by each individual for all tasks.
WBS helps to develop project timelines and schedules.
It helps to write a work estimate to present investors for making funds.
The work breakdown structure excel document helps to assign and ensure no overlaps in the designation of duties and resources.
It helps document all important things without forgetting any essential tasks and stays away from unnecessary activities.
Format of WBS Template Excel
This project's WBS template format is based on a tree chart that shows the descending order of the work hierarchy.
You have to put some necessary information such as project name, project manager name, and starting and ending dates in the first column. After that, put the project plan on the scale of the project life-cycle plan.
These are the steps of a project life cycle:
The first step (project initiation)
Estimation & Recommendations
Develop Project Charter
Submit Project Charter
Review Project Charter
Project Charter Signed/Approved
Related Article: Top Project Plan Templates in Excel
The second step (planning)
Create Preliminary Scope Statement
Decide Project Team
Project Team Kickoff Meeting
Create a Project Plan
Propose a Project Plan
Milestone: Project Plan Approved
Third Step (Execution)
Project Kickoff Meeting
Verify User Requirements
Design System
Buy Hardware/Software
Install Development System
Testing Phase
Install Live System
User Training
Fourth Step (Controlling)
Project Management Methodologies
Project Status Meetings
Risk Management
Revise Project Management Plan
Fifth Step (Closeout)
Audit Purchasing
Document Lessons Learned
Update Records
Get Formal Acceptance
Archive Files/ Documents
However, project managers can also use the project management dashboard template for project management.
WBS vs. Gantt Chart
The WBS breaks down your project into smaller fragments to manage it easily. The work breakdown structure in project management shows what you are doing, whereas the Gantt chart shows when you are doing it.
Related Article: Free Action Plan Template
How you use a WBS?
You use work management structure in project management for scope control and change management. The WBS is a graphical representation of a project in an organized chart. Unlike the Gantt chart, it doesn't display the tasks organized over time.
How to use Gantt Chart
Gantt charts are useful for schedule control. A Gantt chart tracks tasks across time. For example, It shows the starting and ending date of each task, their dependencies, and their connection to each other in sequencing.
WBS vs. Critical Path Method
Before going further, it is crucial to differentiate the WBS and the Critical path method. So, the critical path is the list of main project activities that focus on delivering the project within the assigned time, budget, and scope.
If the critical path fails, then the project will bear consequences in one or more of these above areas.
WBS Views
The work breakdown structure in excel presented here denotes all the work required to complete the project. Therefore, WBS can be made as to the following views.
Outline View: the outline view represents the easiest to view and understand the layout for the WBS. It looks like a headings structure, and you can easily make changes. Mainly when the Microsoft Word auto numbering features automatically update the code in WBS.
Hierarchical Structure: It is like the outline view but doesn't have an indentation. Although it looks more difficult to deliver but is useful when there are many levels of deliverables, and the indenting method would make the table too large to fit into a single document.
Tabular View: The tabular view is readable and straightforward. It shows each WBS level in a separate column and suitable for the organizations who prefer table formats.
Tree Structure View: It is a graphical view of WBS. It presents an easy-to understand view, but it is a bit tricky to create without an application specifically designed for it. The three structure vies SmartArt tools of MS excel for building an organization chart structure.
WBS Dictionary: It is a detailed view of WBS that contains the information necessary to complete a project successfully. Most importantly, it includes a mini scope statement of each Work Package.
Most WBS dictionaries include information such as level of effort, cost control numbers, responsibility assignments, resource assignments, etc.
Related Article: Understanding the Critical Path in Project Management
Work Breakdown Structure Best Practices
When creating a good WBS, you should consider the following key points:
Deep Understanding of Project
The project management team must have a deep understanding of the project scope, statement, and plan.
Focus on deliverables
Major deliverables need to be considered. Ensure you're breaking down the deliverables necessary to produce those deliverables.
Confirm there is no overlap between components within the WBS. Identify work packages out of main deliverables.
Create a WBD dictionary
Creating the WBS dictionary is vital for understanding which view will be more fit for representation.
Be Consistent
The WBS serves as a framework for all following planning activities. So, it needs to be SMART with constant levels of detail and breakdown on deliverables.
Use an Appropriate WBS Template
Finally, use appropriate Work Breakdown Structure Template Excel for the representation of work tasks. Download Excel WBS. This is a FREE Work Breakdown Structure (WBS) template in Excel and PDF
Tips for Creating a Good WBS
Here are some tips for making a work breakdown structure once you get started.
Create a WBS dictionary for large projects
Usually, you wouldn't need a dictionary for a small project. But if your WBS has many detailed activities, to keep them on track, you should place all of the information in the WBS dictionary.
This dictionary will help you to keep track of all of the summary and detailed activities. These activities can be short descriptions, the WBS numeric identifier, and the estimated effort.
Take time to comprehend inputs and outputs
Before starting WBS, understand all of the inputs and desired outcomes. I recommend using a Project Charter to highlight the main deliverables and objectives.
Most of the companies use sticky notes to plot out all of the high-level deliverables. And then, they use different colors for the different layers within the task.
Then they put this across a desk and gather input from the team. But if your team is working remotely, you can do this by using some software. This is an effective way to encourage the team to think about the sequence of the project activities.
Use the summary activities as the milestone
Your WBS should include a detailed summary and activities. A summary activity is broken down further, whereas a detailed activity is not broken down further.
Although a schedule typically contains only detailed activities, it is rational to include the summary activities as milestones. A summary activity would show that all of the actual detailed work has been completed.
Leverage your SME's
Use subject matter experts to assist in planning and sequencing activities. This way will ensure that you are using thins in the right order.
Get feedback
Discuss your WBS with the PMO resource manager to line up critical resources so that you can make sure that your plan is SMART.
Get buy-in
As buy-in essential for the success of WBS, so you should go through it with your team to make sure that they are aligned and agree.
Make the final detailed activities action-oriented
The detailed activities in WBS are ultimately moved to your schedule. For that reason, make the detailed activities in your WBS action-oriented.
Instead of describing a detailed WBS activity as "meeting," you can say it as "schedule a weekly meeting." In this way, the detailed activities can be shifted to the schedule with the least wording changes.
Related Article:Free 2 Week Look Ahead Schedule Template XLS
How to Create A WBS
Now that you have enough information about work breakdown structure and work breakdown structure template, it would be interesting to know how to create a WBS. Here are a complete guide to creating a Work breakdown structure template.
The first thing to consider is to write down and record all deliverables of the project. Think about the significant activities and list them all down.
Then start breaking down those objectives into smaller and simpler chunks of work until the point where they are manageable. At this point, you have to focus more on the project deliverables rather than the tasks.
The 100% Rule is that you would include all deliverables, which must complete the project and achieve all the objectives. This means you have to exclude all extra, additional, or unrelated work that is not required to complete the project.
Moreover, you won't have to repeat any of the sub-tasks twice to violate the 100% rule, as repetition would result in miscalculations and inaccuracies.
Focus on outcomes rather than actions. Doing this will make your WBS more effective as it will pull more attention to outcomes rather than processes.
According to the 8/80 Rule of Effort, a work package always represents less than 80 hours of work.
Typically, every WBS in project management would be completed in 3 key levels. These levels should contain enough details and can be further divided if more details are needed.
Then start assigning tasks to the project team members. Assign each task to a specific individual to complete it. All the duties should be exact, and there should be no similarity of work.
WBS Example
The best way to understand how work breakdown structures work is by looking at different WBS examples.
Let's suppose we are creating a flowchart variant of a work breakdown structure to guide a commercial building project. This is possibly a complex project, but a WBS will cut it down to more straightforward tasks to make the project manageable.
At the top of the WBS will be your final deliverable. Below will be the next stage of deliverables, which are the primary tasks required to complete the project.
Each of those deliverables will branch off the primary deliverable at the top. Once decided, they will be broken down into a series of tasks. For example, the initiation phase will include site evaluation work and creating the project charter.
These tasks can be more distilled into smaller subtasks. For example, In the execution, we will look at the interior work. This task will be divided into two subtasks: installing the plumbing and setting up the electricity.
Top 5 Frequently Asked Questions about Work Breakdown Structure
There are many questions in the FAQ list of Best Free Work Breakdown Structure Templates. However, the top 5 and the basic ones are:
What are the 3 levels of work breakdown structure?
At the top level is the project's ultimate goal, the second level contains the project objectives, the third level has the project outputs, and the fourth level with activities.
What is the least level of WBS?
The lowest level of the WBS is called a work package.
What are the different types of WBS?
1. Verb-oriented WBS
2. Noun-oriented WBS
3. Time-phased WBS
What is the WBS typically used for?
The WBS is used to organize and describe the project's total scope, following the 100% rule.
Does every project need a WBS?
It depends on the project's size and duration and what you view as a WBS.
Finally, it was all about the "Best Free Work Breakdown Structure Templates". Please do share your feedback in the comments section and keep visiting us to learn more about Project Management.